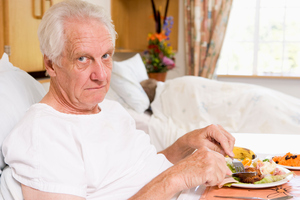 I love food. Correction: I love good food.
Fresh food, beautifully prepared, is one of the joys of living in this country.
The ingredients don't have to be expensive and the preparation doesn't have to be complicated. Meals prepared with care and finesse don't have to cost the earth and they can be most wonderfully healing.
What's the first thing we do when somebody has had a baby or is suffering an illness or there's been a death in the family?
When a friend experiences a life-transforming event, we bring food around. Food sustains, shows love and heals.
Which is why the very suggestion that hospital food be prepared in two central hubs and shipped around the country is so absurd.
Centralising food production could cut $10 million from the health budget and Health Minister Tony Ryall has claimed that the food made in hubs would be "better" than the fresh food that is being prepared now.
Hard to see how week-old chilled food could be better than food prepared daily.
And while there may be savings to the DHBs in adopting this plan, what about the cost to the country of making more than 1000 hospital kitchen staff unemployed?
In the week that saw the death of Margaret Thatcher and the resultant analysis of her neo-liberal economic legacy, haven't we learned that sometimes policies shouldn't be made on the basis of bottom line figures alone?
Sometimes, political decisions have to be made with people in mind.