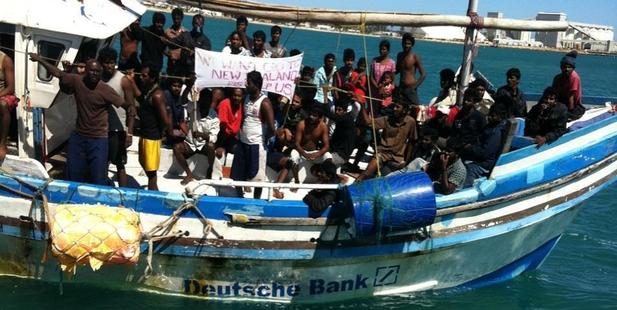 A Deutsche Bank boat carrying asylum seekers pulls into Geraldton, near Perth Australia. Photo / Supplied
BROUGHT TO YOU BY...
To sharp-eyed observers, the arrival of a boatload of asylum seekers in Western Australia this week suggested a bold new approach to corporate sponsorship.
There, just above the waterline, was the logo of German giant Deutsche Bank. But despite appearances, the bank isn't branching out into a new line of business; a Deutsche Bank spokesman was reported as saying the boat appeared to be one of the fishing vessels it had donated to Sri Lanka, as part of a US$15 million effort to aid victims of the 2004 Boxing Day tsunami.
SUPER SCRAP
As the NZ Initiative think-tank notes this week, fans of compulsory retirement saving often look wistfully across the Tasman, where employers have to put at least 9 per cent of workers' pay into individual super accounts. The trouble is, politicians set the rules, and the tax rates. Superannuation has become one of the burning issues in Australia's endless election campaign, with Julia Gillard's government facing accusations that it plans to raid super accounts in next month's budget.
Everyone now seems thoroughly confused about who is promising/threatening what, and how any changes will affect savers' entitlements. More proof that having a retirement account with your name on it doesn't mean you're safe from politicians changing the game.
LESSONS FOR THE SPIES
Someone in the Department of Prime Minister and Cabinet must have a sense of humour. With the GCSB furore still gripping those whose lives revolve around the Beehive, the department has decided now is the time to advertise, putting out a Request for Proposals seeking "an innovative supplier" to provide professional development for executives and senior officials in the security sector. The intention is to give the spies "the knowledge and skills" they will need to deal with the "myriad" security challenges facing New Zealand. Interesting timing, though possibly a little late.
DOING THE HARD YARDS
Speaker David Carter (pictured) may be getting a bit of a caning from the Opposition, but he has shown he can dig in for the long haul. During the last parliamentary break, around Easter, Carter completed the Paris Marathon in less than four hours. Not bad for someone over 60; will he show the same staying power in the House?
BROKEN ENGLISH
Before it starts encouraging us all to learn Mandarin, the Government might try working on its own officials' English skills. Take this fine example from this week's China Market Review, a report on Chinese tourism: "Game-changer leads: Establish a new process for discovering and implementing game-changing actions - reporting back to government and industry. This is not a game-changer lead in itself but is highlighted as a necessary step to shift game-changer leads to robust recommendations. The Review has identified the need for game changing actions to realise the potential for, and from, the China visitor market. The report presents game-changer leads that require further work than was possible within the scope of the Review." Perhaps it makes more sense translated into Chinese.
ON SONG
Once, economist-speak was a reliable cure for insomnia. These days, the profession does its best to sound hip and relevant. Out yesterday, the latest PMI Index - which measures the health of manufacturing - inspired this from BNZ senior economist Craig Ebert: "the latest PMI, and the manufacturing component of Tuesday's NZIER Quarterly Survey of Business Opinion, are singing from the same song sheet. It's not a power ballad, but it's far from a dirge."
SPICY FASHION
Mexican seems to be the trend in the food business. Mexico, the restaurant that cemented Aucklanders' love of the quesadilla, opened in Hamilton last night. Owner Mimi Gilmour is turning her venture into a national chain, with a restaurant at Britomart, one in Takapuna and now the 'Tron.
MONEY LAW'S WIDE NET
Government officials and bankers are starting to wonder if the Anti-Money Laundering and Countering Financing of Terrorism Act is going to have more far-reaching consequences than envisaged. Passed in 2009, the law comes into effect at the end of June. Similar laws elsewhere have resulted in HSBC, among others, having to pay huge fines after clients used their accounts to launder money. The NZ law covers a wide range of institutions - from banks, to trustee companies, to casinos. People using trusts are likely to face many more questions about where their money is coming from and where it is going. Considering how widespread the use of trusts is, some people may have to rethink their arrangements.
FIXING THE PLUMBING
Paula Rebstock's long-running and costly investigation into the leaking of documents on the Ministry of Foreign Affairs restructuring is said to be close to a conclusion, with much gossip about where the finger of blame will be pointed. Some are wondering whether the leaker of the GCSB report will be hunted down with the same determination - an easier task, considering how few people had access to it.