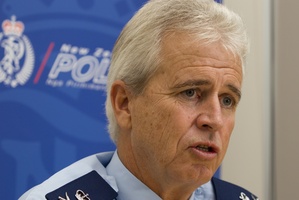 According to Police Commissioner Peter Marshall, the funeral of former Crewe murders inquiry chief Bruce Hutton placed the police in "a difficult situation". The force's obligations to the grieving family of a former member had to be balanced against the wider context. Fact, he implied, might have been set aside for sensitivities.
That today's police got that so grievously wrong reflects badly on the attitude and ability of the police hierarchy. Indeed, it raises the question of whether anything has been learned from a succession of high-profile police failures, from the Arthur Allan Thomas conviction, to the Louise Nicholas case, and even the extraordinary operational behaviour that led last year to charges against 21 people associated with a Nelson motorcycle gang being thrown out.
Mourners at Mr Hutton's funeral were told by Deputy Commissioner Mike Bush that the former detective inspector had "integrity beyond reproach". Given the fact that a royal commission of inquiry named Mr Hutton and another officer as responsible for planting a cartridge case that led to the conviction of Mr Thomas for the murder of Harvey and Jeannette Crewe, that was clearly absurd.
It was also an unthinking or calculated insult to Mr Thomas, who spent nine years in prison before being pardoned. At the best of times it is difficult to argue anyone's integrity is unassailable.
It is no defence to claim, as Mr Marshall subsequently did, that this quotation came from a senior officer in 1967, three years before Mr Hutton took charge of the investigation into the Crewe murders. That infamous unsolved case, not to speak of the royal commission describing Mr Hutton's action as "an unspeakable outrage", changed everything. Mr Hutton's integrity was shot. In the eyes of the public, his character was tarnished forever, a truth underlined by the Court of Appeal's upholding of the commission's finding. There can be no different truth no matter the circumstance. He deserved and received "reproach".
Mr Thomas has responded by suggesting "we have a police system now that is protecting their own". That is a reasonable interpretation of the funeral comments and subsequent backing from the commissioner. They suggest police have a laager mentality that defends police officers, present or past. They indicate an unwillingness to acknowledge serious operational misdeeds. It is difficult to think of anything that runs so contrary to the police rule book as the planting of evidence, especially when it proves so pivotal to a wrongful imprisonment.
Mr Thomas argues that by implication the police seem to continue to believe, as Mr Hutton did, that Mr Thomas was responsible for the Pukekawa double-murder. He is using that to dismiss a police review of the original investigation. When the review is released, Mr Bush's words will, inevitably, be juxtaposed with those of the findings. Indeed, the likely outcome is that his comments will undermine the integrity of a review that has been two years in the making.
Six years ago, public confidence in the police was severely eroded by allegations that Louise Nicholas had been the victim of pack rape in the Bay of Plenty in the 1980s. Clint Rickards, subsequently an assistant commissioner, and two former police colleagues were charged and acquitted. Nevertheless, what came out about behaviour 20 years earlier rightly ended Rickards' career.
It was accepted then that only a major culture change and a return to the high standards of professionalism New Zealanders once took for granted would retrieve the situation. Mr Bush's eulogy showed, sadly, that this has not yet been achieved. If Bruce Hutton's integrity can be considered "beyond reproach", then that devalues the word integrity for all in the police, including Mr Bush and his boss.