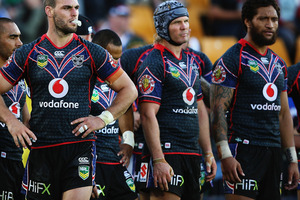 Do the Warriors stand any chance of winning at the Canberra graveyard? Justis Kamu looks at the Warriors' upcoming game, along with the six key issues in the NRL.
1. Canberra Raiders v NZ Warriors
(a) Canberra graveyard
All clubs hate travelling to Canberra graveyard, sorry Canberra Stadium. The Warriors have only once left the Australia's capital still breathing with a victory, way back in 1997. Since then it's been 16 years without a win for the Auckland club who have been buried each time they've been back on 10 visits.
(b) Welcome back Terry Campese
The Raiders will be buoyed by the return of their captain Terry Campese who has been out of action for 12 months. He's had a number of injuries to overcome including two knee reconstructions and a serious groin injury that has seen him in and out of the doctor's clinic for the past three years. He may not play at the NSW/Australia representative level that he did three years ago but the standoff will bring enthusiasm and experience to a side that is riding high after last week's comeback 24-22 victory over the Sydney Roosters.
(c) Key Warriors to improve
Thomas Leuluai
Matt Elliott will persist with Leuluai at standoff although his talents seem suited better to playing from dummy-half. His kicking game hasn't been flash unlike his time at Wigan where at times he looked like he was playing with a round ball. If he is to offer a secondary threat out of the halves he needs to hold on to the ball and run at the defence. He only made 10 metres with the ball in hand against the Rabbitohs
Simon Mannering
Captain reliable is slowly churning out the kind of steady performances that have earned him the consistent tag at the Warriors. 160m, three offloads and 34 tackles is a strong return for the man from the South Island after what has so far been a fairly ordinary season. That squib kick against the Rabbitohs was awful, and he should know better than trying to do that ever again - next time keep the ball alive or give it to Shaun Johnson. His connection on right side with Konrad Hurrell is finally showing signs of improvement.
Feleti Mateo
Still a long way off his form from last year but his performance on Sunday afternoon was an improvement. If a NSW jumper is his aim than the former Eel must quickly find his bag of tricks and conjure up some magic to force his way into that side. 95m, 25 tackles and five offloads from 63 minutes of work against the Rabbitohs was his year's best outing.
2. SBW to front intimidating Bulldogs fans
Sonny Bill Williams first game against the Canterbury Bulldogs this Friday night is the most highly anticipated match of the regular season.
Since he announced his signing with the Roosters last year, Bulldogs fans have marked down April 12th as a chance to let out their frustrations after his abrupt departure in 2008.
It will be a hostile night at a sold-out Allianz Stadium for the second rower whose mid-season smoke bomb out of Sydney five years ago still leaves a bitter aftertaste for many of the blue and white faithful.
Bulldogs fans aren't exactly renowned for their welcoming receptions and will certainly come down hard and heavy on their former golden boy.
Expect all his touches on the ball to be booed, missed tackles to be jeered and any crunching tackles on him to be followed by abuse.
Extra security has been brought in to shadow Williams in and out of the ground, but this isn't likely to deter Doggies fans from dishing out a barrage of slurs or throwing projectiles when he's in range.
SBW will no doubt relish this match as an opportunity to get one over his former club and rise above a large majority his most passionate and ruthless haters.
With both sides coming off the back of losses in the previous round this is set to be an intense battle worthy of all the hype surrounding its buildup.
3. Sharks lack bite as drugs investigation continues
The ongoing ASADA investigation is damaging the Cronulla Sharks 2013 season.
Rated as one of the top sides in the competition by many pundits after making a number of key player transfers in the offseason, the Sharks are 2/5 after five rounds.
The Sharks lost their second match on the trot 13-6 to the Eels for the Johnny Mannah Cup.
The Sharks on-field performances has suffered due to the drugs scandal which currently surrounds the club with 14 players said to be under investigation for performance enhancing drug use.
Coach Shane Flanagan has stopped short of using it as a reason for their earlier showings but finally admitted in the after-match press conference on Saturday that it was affecting their preparation.
Sharks fans have become irritated at ASADA's inconvenient process which is thwarting their side's run at a first NRL title.
Having been given no concrete details as to how long it will continue or its likely outcome Flanagan and his Sharks have a ridiculous amount of pressure to contend with as the season rolls on.
With the Sharkies set to face the Sea Eagles, Bulldogs and Knights over the next three rounds they don't look likely to get out of their slump in the coming weeks.
4. SJ v BM for halfback position
Next Friday's Anzac test looms as a significant opportunity for Shaun Johnson to stake a serious claim as the Kiwis halfback.
If Benji Marshall's toe injury turns out for the worse it could place the incumbent in the stands for the next three months.
Kieran Foran's place in the halves is to be expected considering that he has been a consistent performer for club and country where his direct ball-playing approach helps to balance a side.
Finding a complementing style alongside Foran for the Rugby League World Cup isn't a problem with SJ and Benji both having a tendency to move laterally and possessing an extensive range of passes.
However with Benji's recent removal as captain his position in the run-on test side is now contestable.
If Johnson is given the nod at halfback, performs strongly against the Kangaroos and continues his upward trend with the Warriors it would place pressure on Benji to get back to playing regular football.
The Anzac test and the subsequent 21 rounds of the NRL is set to provide an unofficial audition between two of the most entertaining players in the world for the coveted seven jumper.
That is good news for the Kiwis who want their best team on the field to defend their world champion title.
5. Your comments
From MPT
I think Laumape just may be the answer as to who can replace Bill Tupou, Ive got nothing against Bill, he's reliable but mediocre, every once in awhile he'll play an above average game but to be honest I dont think he'd still be there if the Warriors had better options, Slymankel didnt cut it in first grade and The Fish doesnt look at home on the wing, Laumape though was very impressive,he had the confidence and ability of a player much more experienced,he may have that X Factor we havnt seen on the wing since Vatuvai, still early days but I hope Elliot gives him another shot against Souths.
- Laumape has been outstanding in recent weeks and looks at home in first grade. The way that he has been playing over the past three weeks it would be difficult to see him left out of the side when D Nielson eventually returns. B Tupou has been steady recently and deserves his time in the run-on side but things will change when Nielson (who hasn't impressed either) is back in the side from injury.
From DT
The so called league experts can't have it both ways with Slater, on one hand praising his athleticism and reflexes and then on the other saying that it was unintentional. I agree with the other comments that it was deliberate and I don't know what video you were watching but Slater looks at Klemmer and points his foot at his face. And YES Slater is that type of player and if you know anything about league you would know he has history for grubby tactics.
- Yes he saw Klemmer (if only for a second) but to change the position of his leg while in the air is pretty tricky to do and in a slit second - even for elite athletes. Also shouldn't the Bulldogs forward have slowed his run at Slater who was taking the catch?
6. Team of the week - round 5
1. Fullback - Jarryd Hayne (Eels)
2. Wing - Jorge Taufua (Sea Eagles)
3. Centre - Jarrod Croker (Raiders)
4. Centre - Justin Hodges (Broncos)
5. Wing - Josh Hoffman (Broncos)
6. Five-eighth - Jonathan Thurston (Cowboys)
7. Halfback - Adam Reynolds
8. Prop - Tim Mannah (Eels)
9. Hooker - Andrew McCullough (Broncos)
10. Prop - Dan Hunt (Dragons)
11. Secondrow - Anthony Watmough (Sea Eagles)
12. Secondrow - Tyson Frizell (Dragons)
13. Lock - Corey Parker (Broncos)