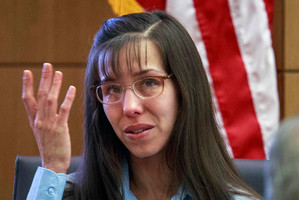 The Jodi Arias case, or "Mormon murder trial", is currently playing out in the US media like an exquisitely written soap opera. (Clichéd but true.) It is utterly absorbing; to the point I will willingly sacrifice hours of sleep in order to catch up on the latest developments. And send all my friends multiple news links with many exclamation marks; prompting one to ask "Is this spam?"
No!!! Not spam!!!! The trial involves 32-year-old photographer Jodi Arias, who is charged with the murder of her ex-boyfriend, Mormon motivational speaker Travis Alexander. The two were sexually obsessed with each other and had a undeniably unhealthy dynamic, culminating in Travis being found in his shower with 29 stab wounds, nearly decapitated with his throat slit from ear to ear, and two gunshots to the face.
Jodi's story has changed three times: initially she claimed she hadn't seen Travis for months before his murder. Then she admitted to being at the scene, but blamed his death on masked intruders.
Finally, years later, she confessed to the crime.
Her defence counsel is now arguing Alexander was physically abusive and that Jodi was a victim of battered women syndrome. But (even though Travis is emerging as a less than honorable guy) there's very little evidence this was the case.
If Jodi is found guilty of first-degree murder she'll likely be executed, becoming the fourth woman on Arizona's death row. So, heavy stuff. But there are weighty cases every day in the US. Why does this one have everyone so enthralled?
We take Jodi's lies personally
As behaviour expert Patti Wood says of the trial: "Our central nervous system as a viewer is disturbed in the presence of deceit. It stresses our bodies out."
When Jodi lies, and there have been so many blatant falsities - from writing false journal entries to forging letters by Travis in which he claims to be a pedophile - she is essentially lying to us too. Or at least that's how it feels, which is then exacerbated by the fact this case is inexplicably wide open to the public.
Bread and circus
This is a public trial in every sense of the word. It's almost unnerving, like gaining access to somewhere you're not sure you should be. Which makes it almost impossible not to watch.
To start, the court proceedings are being live streamed. And YouTube houses hours of unedited footage of Jodi being questioned in custody. (You can even - if it appeals - watch her do a handstand, sing songs and talk to herself when left alone, something even the jury won't see). The trial's photographic evidence - including shots of Alexander in the shower; his autopsy; pages from Jodi's diary; and various emails and text messages - is online also.
Adding further to the spectacle, chief prosecutor Juan Martinez was berated in court for signing autographs outside the courtroom, and members of the public sit inside watching the proceedings as though at the cinema. It all has the slightly surreal, slightly perverse, can't look-away effect of blurring entertainment with real life tragedy.
Obsession and identification
Jodi and Alexander's affair was sex-fueled, dramatic, and obsessive. Most of us - whether it's firsthand experience or vis-à-vis our friends - can personally identify with the themes at its heart: be it infatuation, forbidden fruit, power plays, disappointment, deception, or a broken heart. In the case of Jodi Arias, they just happen to be writ devastatingly and inhumanely large.
Beauty or beast
Jodi is an attractive woman and that matters, whether it should or shouldn't. Photo galleries of her "sexy pics" abound, and much has been made of the fact she changed her glamorous blonde curled hair to mousy brown for the trial, adding "nerdy glasses" to the mix. "She used to look like a little doll, a little sex kitten with that long blonde hair. Now she looks about 12," said "image consultant and makeup artist" Devy Walker, to WPTV.
Will Jodi's conservative new appearance enamour her to the jury or come across as calculated? And are juries less likely to convict attractive people, overall? (Depressingly, yes.)
Either way, Jodi's looks are not an insignificant to the case, a fact brought to the fore once again when chief prosecutor Juan Martinez publicly accused the defence-appointed psychologist (who diagnosed Jodi with PTSD and amnesia) of having feelings for the 32-year-old.
Sex versus religion
It's a sensitive combination, topic-wise, and one that's come up frequently in Jodi's trial, mainly by the defence counsel in order to taint Travis's character.
The 30-year-old was a devout Morman elder - he even baptised Jodi two months after they met. But his constant internal battle around premarital sex is well documented, especially when it came to his seemingly nonsensical rules around what he could or could not do.
Essentially, there was Travis the committed, active Mormon, and Travis the sexually active hypocrite. Should his hypocrisy (as it pertained to sex and his faith) even matter, though? Or was it just a tug-o-war between conservative edicts and a young guy's sex drive, the stuff of everyday?
Armchair psychology
As is often the way, media have called on experts to "diagnose" the accused. The general consensus seems to be that Jodi does have some sort of personality disorder - the question really being, which one/s? Narcissism? Borderline? Antisocial?
At the very least, her trial offers compelling discourse on something that affects around 10 per cent of the population but is rarely discussed in public.
Follow Rebecca Kamm on Twitter