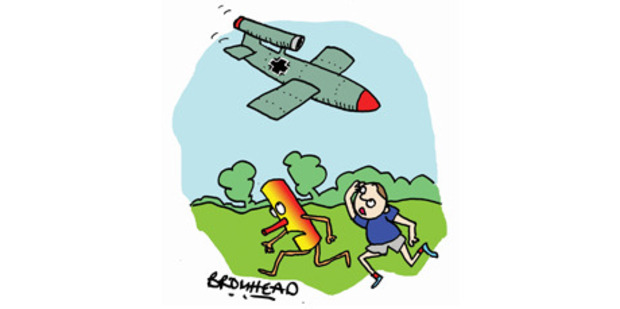 Noting my 7-year-old son engrossed, as usual, on his mother's iPhone, I thought it appropriate to display parental interest.
"That game looks exciting?" I interrupted. Such inquiries, of course, fall on deaf ears.
Children engrossed in loony cyber-land are not living on the same planet as grown-ups.
Only when the mobile needs recharging is it possible to establish a brief rapport.
Usually, you learn that the activity involves some sort of aerial combat, zooming between mountains and buildings, hunting down reptilian beasts and zapping them before they zap you. It's all very realistic, and no doubt hours of fun compared with changing the signals and points on a Thomas the Tank Engine railway track.
I cynically suspect such pursuits are merely subliminal basic training for today's innocents, preparing them for the day when they can join the military and continue a career sitting in front of a computer hunting down real adversaries, armed with an unmanned aerial vehicle - UAV for short.
The growth in unmanned aerial vehicles is slightly chilling; more than 70 countries now produce robotic flying machines.
The Americans lead the pack, with sophisticated aircraft bearing sinister names like "Predator" and "Reaper".
I have had some experience of UAVs, having been at the wrong end of a flight by the great-grand-daddy of today's robots, when a German V1 "doodlebug" appeared overhead and exploded in a paddock only a few hundred metres from where I and another boy were hunting rabbits on a Hertfordshire farm in 1944.
Arriving somewhat shaken at the impact point, we discovered the unmanned missile had created a crater big enough to contain a double-decker bus.
Doodlebugs relied on primitive navigational technology, diving randomly over a wide target area of South England when they ran out of fuel, unlike today's drones, which can pinpoint moving targets with laser accuracy before letting loose with a devastating barrage of rockets.
There is something chillingly Orwellian about young Americans dressed as combat pilots, guiding this slaughter via distant computer terminals - presumably with the same dispassionate skills with which my 7-year-old dispatches reptilian beasts.
As a golden oldie, I find myself pondering the future of remote electronic conflict and gloomily asking myself, where's this all going? But that's what my grandmother also thought, when the Germans arrived over London in Zeppelins during World War I, lobbing small bombs from baskets.