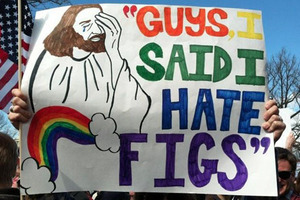 When pranks go wrong
1. Randy Wood, embittered and angry and wanting to get one over his ex-wife, called her up and told her to come over ... he had something to show her. When she arrived she found him hanging by a noose from a tree in the front garden of his house in New York state. She immediately called emergency services and firemen, policemen and paramedics showed up. But when a fireman went to cut Wood down they found a concealed harness supporting his body weight and one sniggering ex-husband totally intact. It was a short lived victory however, as he was subsequently fined $1000 and sent to jail for a year.
2. Being a night security guard at Toys 'R' Us must be boring. So it's understandable why Ron Zero engaged in a little doll cross-dressing. But when Carina Guillot and her 12-year-old daughter, Jocelyn, walked into the Florida store in 1990 they thought they had found a unique Mattel doll, which would surely be a collector's item. Shortly after they were offered $4000 for their rare find. But once the story went national Ron confessed and was sacked for his honesty. (Source: Listverse.com)
Enough to make you teetotal
Worst job you've ever had: "I once worked at the Wilson's Whisky factory in Dunedin straightening label after label after label," writes a reader. "If the monotony wasn't bad enough, the yeasty smell day after day eventually made me vomit. Job didn't last long as the rest of the chain gang got pretty annoyed at having to stop the conveyor so I could dry retch. Now every time I smell whisky I gag."
Teenage night owls brighter
Research on teenagers has found that those who burn the midnight oil are generally brighter and wealthier than early risers. A study of around 1000 teenagers by the University of Madrid found that those who preferred to stay up late exhibited the kind of intelligence associated with better jobs and higher salaries. Researchers looked at the habits and body clocks of the youths and determined whether they liked to stay up late or rise early. Their school performance, inductive reasoning (or problem solving abilities), academic grades and major subjects were also examined in the study. Night owls performed better than early risers at inductive reasoning and demonstrated a greater capacity to think conceptually as well as analytically. These abilities have been linked to innovative thinking, more prestigious occupations and better incomes. (Source: Telegraph.co.uk)
Picture this: This incredible children's tree house would fetch at least half a million in the Auckland market...
Sideswipe Picture #2: Would that go well in my burglar? Snapped outside a South Auckland vegetable shop.
Video: Nostalgic clip of 21-year-old Russ le Roq (Russell Crowe) and his band Roman Antix being interviewed on 80s music TV show Shazam!
Video: This clip is awesome for three reasons 1) The couple quibbling over the relative danger of the buffalo 2) Rosie's wifely hysteria 3) And wait for it...
* Got a Sideswipe? Send your pictures, links and anecdotes to Ana here.