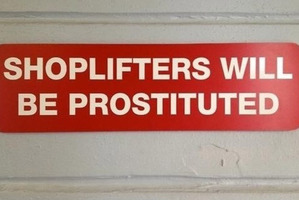 Postman brings Easter joy
Andrea, of Green Bay, writes: "Two weeks ago I was returning from Palmerston North to Auckland by the night InterCity bus. At Taihape, a young mum with a little child wrapped in blankets came aboard and sat by me. She had already had a major heart operation, and may be in for another. She was going to Starship. A cousin and friend were due to meet her, but the bus was nearly three hours late, due to several mishaps, so no one was there to meet her. I took her to the cafe and bought breakfast for them both and they caught the Link bus to Starship. Later that week I received a beautiful card from her, homemade, with dried petals from a flower and in return I bought her wee girl an Easter egg, and sent it to Taihape. I wasn't sure of the address, but put mine on the back. The next morning at 6.38am the phone rang. It was the Taihape postman. I didn't know her surname and the address was wrong. She had told me she went to church, so the postman gave me all of the church's phone numbers in Taihape. The first one I rang knew her, and her address. The postman gave a big cheer - he could see her street from the Post Office. Thanks to Postman Donald Ford, she will get her Easter egg on time."
Hard to believe
Atheist Shoes (shoemakers in Berlin) noticed that a disproportionate number of their shipments to the US were delayed or lost. A customer suggested maybe postal workers were taking offence at the Atheist packing tape they used to seal the boxes. So the company sent the next shipment (some with the tape and some without) and found that boxes with Atheist tape were 10 times more likely to disappear and took an average of three days longer than their generic equivalents. They stopped using the Atheist packing tape.
Cutting-edge culinary decision rejected
Castle View School in Essex, England, banned triangular muesli bars after a student sustained an injury from one being thrown. The school decided that to make dining safer, all flapjacks must be cut into rectangular portions. The ban did not last long. Public mockery seems to have killed it. (Source: Boing Boing)
Money laundering the way to go
A reader writes: "Went to the ASB today to convert back some Fiji dollars after a nice wee trip away. Teller would not convert one note as it 'had a dirty patch and was thin'. But it was legal tender in Fiji. Bank policy says they won't buy back notes in not very good condition, because they 'can't sell them again' ... Glad it was only a $2 note and not a $100! Lesson here - either spend those shabby notes or give them a good laundering before heading home!"
Picture this #1: Animals dressed as stereotypical human being is wonderful bang on, don't you think?
Meme: Actresses without teeth... (It's very hard to even recognise who they are sans choppers)
Picture this #2: The subtle differences between nerds and hipsters...
Video: Auckland to Bluff in 5 minutes has some really nice time lapse footage (turn your sound down before clicking as music starts automatically)
Video: Electric Fence experiment. Science wins...
* Got a Sideswipe? Send your pictures, links and anecdotes to Ana here.