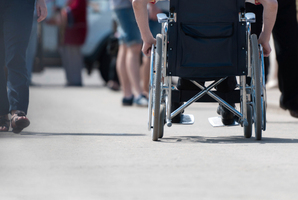 A young woman who happened to use a wheelchair was heading to work only to discover the hard way that the path was inaccessible. She was new to the area and probably had not yet discovered that other wheelchair users avoid that crossing. She would not have known of the years of advocacy that had taken place to make the crossing safe.
The issue with the railway crossing is not new. Disabled people have known about it for years. So have their families and those who work with disabled people. Sacha Dylan was quoted as saying that, as the Past President of DPA in Auckland, he had been lobbying KiwiRail since 2006 to install rubber paving at rail crossings because asphalt invariably decayed with the heat and vibration of passing trains. Eight years later, this particular issue is finally being addressed.
For years disabled people, their families and other people in the sector have raised issues and tried to engage with the relevant decision-makers around all areas that impact a disabled person's life.
Accessible transport, accessible buildings (including homes), access to information and communications, access to health services, access to employment, access to education, access to cultural life, recreation and sport, and access to a life as a NZ citizen.
KiwiRail are now talking with disabled people about railway crossings. It took a horrific accident at Morningside Station for this to happen. The Morningside incident became the catalyst for quick action to remedy the crossing there so it is safe for pedestrians including those in wheelchairs to cross.
A report commissioned in 2012 by the Convention Coalition Monitoring Group on the UN Convention on the Rights of Persons with Disabilities illustrates how discrimination (possibly based on a lack of awareness) in one area can also adversely affect a person's experience in other areas. A lack of access to transport and disability services has a direct impact on access to employment. Exclusion from employment has implications for accessing health services and social inclusion. Being unable to access quality health care may in itself be a barrier to making complaints. Taking into account all of these issues has flow on effects, which continue to grow and become, as in this case, an accident waiting to happen.
Traditionally, submissions and meetings take place with 'officials' who do not have the ability to make decisions, or if a decision is made, it is only a part of the picture. We are grateful for those who do strive to make a difference. NZ ratified the Convention on the Rights of Persons with Disabilities in 2008 yet we still have to wait for tragic events to happen before we can engage with the decision makers at a high level.
Other pathways involve making formal complaints to the Human Rights Commission and or the Health and Disability Commission, and, while successful, are time consuming and energy draining when we just want to be like others, to get up, go to work, and be part of our community.
So while we applaud KiwiRail for finally engaging with us at a high level, we need to see more if we are serious about the rights of disabled people. We need to be at the table with decision-makers not wait for a tragedy to bring us there.
The Convention talks about the need to partner with disabled people through their organisations resonating the same principles of partnership, participation and protection as the Treaty of Waitangi.
The tireless efforts by disabled people in the past and today must be recognised. Together, we can make the rights real for all New Zealanders and remove the barriers that prevent us from truly participating in society.
Rachel Noble is chief executive of the Disabled Persons Assembly.