Otago's rail trail is a stunner ... and don't worry about the preparation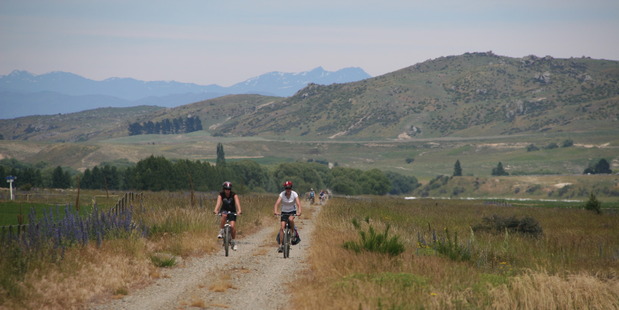 Agreeing to cycle the Otago Central Rail Trail is something you do in that "a bottle too far" phase of dinner parties.
You assume the person who suggested it will either forget they ever raised the subject or realise, in the cold and sober light of day, that when you said "there is absolutely nothing I would rather do than go for a 150km bike-ride," you really meant "don't call me, I'll call you".
But then emails full of logistical details began to clog my inbox. I ignored them but they kept coming, becoming more frequent, more detailed, more gung-ho. Eventually I had to face the fact that this was a happening thing that I couldn't wriggle out of. What had I let myself in for?
I asked around. The consensus seemed to be: if you fail to prepare, prepare to suffer. That's fine in theory; in practice it comes up against one of the harsh realities of the way we live now, namely that to take time off work, you have to do all the work you would have done if you hadn't taken time off work.
Nor does it take into account our instinctive resistance to the idea of undertaking a physical conditioning programme to go on holiday.
So in the end, my wife and I did no preparation whatsoever. As far as I can recall, I haven't ridden a bike since I left school. Somewhere along the line my wife bought a bike, but it was dispatched to the tip recently after it occurred to her that it hadn't left the garage for a decade and a half.
Before hitting the trail, we spent a weekend with friends in Wanaka. The bikes in their garage obviously got a lot of use. When we admitted we hadn't done any preparation, they chuckled enigmatically. I detected traces of amusement, bemusement, pity and exasperation.
It was the sort of chuckle you might produce if a middle-aged acquaintance, renowned for emptying karaoke bars with a couple of verses of Sweet Cherry Wine, announced he or she was entering New Zealand's Got Talent and, what's more, was quietly confident of going all the way.
There may also have been an undertone of "don't come crying to us when your nether regions start to feel as if they've been kicked to Queenstown and back".
I'm pleased to report that it never got to that stage. No doubt those who do some training are better off for it, but I suspect the only thing that can really prepare you for biking 150km on a gravel road is biking 150km on a gravel road.
Our companions on the ride quickly discovered that a few sessions on an exercycle hadn't made them immune to saddle soreness.
When you get to the highest point on the trail, there's a sign proclaiming that it's all downhill from there. Psychologically that's probably the case; topographically it's an over-statement.
We couldn't have had better weather; it was beautifully fine without being oppressively hot and with hardly a breath of wind. We didn't find the rail trail aerobically taxing, but then we never had to battle into a headwind. It wouldn't take much - the merest zephyr, barely enough to stir the long grass on the side of the track, made its presence felt.
The bad news is that you will suffer saddle soreness, although gel seat covers certainly soften the blow. The good news is that it's not constant and not all that bad. Put it this way, it's a small price to pay for a memorable experience.
Central Otago is big country, almost continental in scale. Around every corner is a vista straight out of a western. All that's missing is the cowboy silhouetted on the skyline, a man alone in an epic landscape.
Our exceptional tour organiser, former Black Cap Shayne O'Connor at Trail Journeys, ensured that we could look forward to fine meals and comfortable beds at day's end. All that healthy, outdoor activity needs to be balanced with a little self-indulgence.
My only quibble with the whole experience was that if you do it from west to east, the trail ends anti-climactically in Middlemarch. Great name, pity about the place.
We took the train to Dunedin through the breathtaking Taieri Gorge, and spent our last night at the Lone Star caf listening to local band GG & Flanders performing Pink Floyd's Wish You Were Here.
It seemed appropriate and not because we'd learned to tell "blue skies from pain". This is a part of our country every New Zealander should experience.