Soul-searching played out in public shows Republicans must solve their identity crisis to get back to power.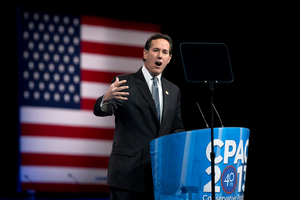 The Republican party has an identity crisis.
Four months after Mitt Romney suffered a surprisingly heavy defeat in the presidential election, the "Grand Old Party" is still trying to decide whether it was the messenger or the message that cost it the White House.
That soul-searching has been on full and very public display in recent days. First there was the Conservative Political Action Conference, or CPAC, a three-day Tea Party palooza dominated by the most right-wing members of the party.
At this year's retreat, former presidential candidate and arch social conservative Rick Santorum warned his party not to "abandon our moral underpinnings so we can win".
Then there was Sarah Palin with a thinly veiled jab at Karl Rove. "The Architect can head on back to the great Lone Star State and put his name on some ballot," she said, using George W.
Bush's nickname for his former electoral mastermind, who is now being vilified for talking about the "problem" candidates on the fringe.
The CPAC conference is always a hotbed of conservatism, but the attendees outdid themselves this year. Some wondered out loud why the United States can not just return to segregation to deal with racial issues, while others criticised single mothers for their choosing to get pregnant with "booty calls".
If the memories of the November elections were starting to fade, such sentiments perfectly illustrated why the Republican party needs to rebrand itself and try to broaden its appeal.
Less than two days after CPAC drew to a close, the party establishment released The Growth and Opportunity Project report, a 98-page self-declared "autopsy" of the 2012 election.
It found that the GOP is seen as a bunch of "stuffy old men" and needs to change its ways, earmarking US$10 million ($12.1 million) for a marketing campaign to do just that. Perception is especially a problem among young voters and minorities, which are increasingly "rolling their eyes" at Republicans, it concluded.
Indeed, the Republican party has been swimming against the demographic tide.
After an ugly presidential primary campaign last year in which candidates tried to outdo each other in their hostility to illegal immigrants - culminating in Romney's vow to make life so miserable for people without papers that they chose to "self deport" - many Republicans realise they have to moderate their language if they want to get elected in the future.
Hispanics are the fastest-growing part of the US population and their number is expected to triple by 2050, and immigration is routinely listed as one of their highest priorities.
So the Republican leaders concluded that the party "must embrace and champion comprehensive immigration reform", one of the top issues on the legislative agenda this year.
The GOP report also notes the "generational difference" within the conservative movement on issues such as gay rights. Most Republicans continue to steadfastly oppose gay rights efforts, chief among them same-sex marriage.
Here, too, the party finds itself on the wrong side of society. Attitudes to same sex marriage have shifted dramatically, with a new ABC News/Washington Post poll this week finding that a record high - 58 per cent of Americans - now support gay marriage.
Among people under the age of 30, that number was 81 per cent.
Unless the Republican party is "welcoming and inclusive", the report warns that young people "will continue to tune us out".
These are the challenges facing the party of Ronald Reagan, which seems to have forgotten to figure out what to do after the era of Ronald Reagan.
Certainly, the party needs to embark on a period of soul searching. After staking out extreme positions on everything from birth control to climate change, it will be a long, slow path back to the middle ground. Given the dissent from the Tea Party faction, the path is likely to be winding, too.
But it is a road that Republicans need to start down if they are to have any chance at electoral survival.
Just take immigration as an issue: There are 60,000 Latino Americans turning 18 every month. That's a lot of first-time voters for the Republican party to be turning away.
As Dick Armey, the conservative Tea Party leader, told the report's authors: "You can't call someone ugly and expect them to go to the prom with you."
Anna Fifield, a New Zealander, covers US politics for the Financial Times.