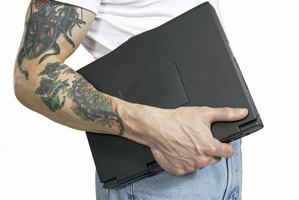 We love Clarkson's notion that Jesus could be born in Palmerston North - but he hasn't really got out of first gear in thinking it through.
The climate further north is a little more biblical. How about the Messiah from Kaitaia? From there we see him travelling south to the big smoke. With the beard, sandals and a calling to help those in desperate need, he's destined for a role in IT support, the ultimate one-man help-desk.
Either that or as a policy wonk for the Greens. Living in Grey Lynn, he'd get the predictable urban make-over - straggly hair into a pony tail, body piercing, obviously, and "pooof" - he's an event planner, great to have if stocks run low at the Auckland Seafood Festival. He'd drive a bio-diesel Isuzu Ascender, with a Radio Rhema bumper sticker. We think Clarkson would approve.

• James Elliott and John Glass appear in The Jim John Jam, Basement Studio, May 7-11.