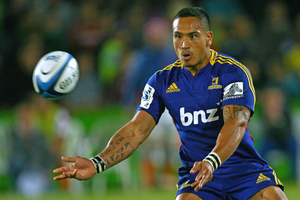 That's three losses in a row for the Highlanders, and all those people who picked them to win the New Zealand conference must be wondering what's wrong.
For me, it's three things - mindset, selection and absentees - which are all inter-related.
Like everyone else, I looked at the Highlanders' off-season acquisitions and thought they were pretty good. Ma'a Nonu, Tony Woodcock and Brad Thorn alone signalled that they would be a troublesome unit up front to go with Andrew Hore and backs the likes of Aaron Smith, Ben Smith, Hosea Gear and Kade Poki.
But I think that has backfired a little. The Highlanders have seemed to depend on those experienced players to carry the flag and I don't think they have quite managed to do the job yet. Nonu isn't there through injury, of course, and they are missing him and other absentees such as Tamati Ellison.
Tony Woodcock played his best game so far but I thought Brad Thorn looked a tired man who's seen a lot of rugby.
Their biggest problem is that the other players - the next tier down, if I can call them that - aren't stepping up.
That's particularly true in the loose forwards. The Highlanders have lost Adam Thomson - the absence that is hurting them the most, I believe - as well as that big English bruiser James Haskell and the combative Nick Crosswell. That's not to mention the injury to Nasi Manu who, although I am not a big fan, at least runs straight and hard and gives them a platform.
That's what's missing - the platform. They came second in the rucks, mauls and collisions, as the Hurricanes loosies of Karl Lowe, Brad Shields and Victor Vito just did a better job. You could see it in the game of Highlanders halfback Aaron Smith; the little All Black was outplayed by TJ Perenara because his forwards didn't give him enough of a platform.
You had Thorn and Jarrad Hoeata locking for the Highlanders but I thought they were matched by Jeremy Thrush and Jason Eaton.
It's a shame for the Highlanders, as they have some exciting backs in Poki, Gear - who I thought outplayed Julian Savea overall - and Ben Smith (although he didn't really get into the game on Friday night). Having said that, I never really thought the Highlanders were going to win, even though the lead changed hands several times and it was a close 23-19 win to the Canes.
A mindset shift is their biggest task now; they look a bit stagnant to me. The coaches have to shift the thinking away from that reliance on the senior pros and make things happen; they have to get the next-tier guys up the scale fast. That will be difficult, as their next opponents are the Chiefs in Hamilton and those guys have not hit their straps yet and have smart coaches who have got them playing at about 80 per cent - but still winning.
Colin Slade will make a difference. The Highlanders have had problems at 10, which haven't helped. He didn't do much on Friday but he did his job and he will improve from there.
If the rest of them do their job, they'll start winning.
The question is, if they lose to the Chiefs in the next round, whether they will be able to bounce back from four losses - a big contrast to the Canes who had that lucky win over the Crusaders followed by a good win over the Highlanders. Their confidence - and their mindset - will be secure.