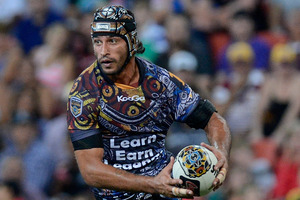 1. Game of the week
Cowboys v Storm, tomorrow
It may be only round two but it wouldn't be a surprise to see these two teams play in October's grand final. The Cowboys dominated the Bulldogs in their first game, beating last year's beaten grand finalists 24-12, as their big forward pack laid it on for Johnathan Thurston to do what he does. They will have a big advantage in this match, given it is forecast to be played in hot and humid conditions and Melbourne struggled with the conditions in week one, but the Storm have weathered a few handicaps in their time. They smacked the Dragons 30-10 last weekend, extending their winning streak to 10 matches.
If the Cowboys can stop the Big Three, they can stop the Storm.
2. Cam-do attitude
Television executives are trying to come up with ideas to outdo their rivals - Channel Nine's efforts to convey what SBW was thinking plumbed new depths - and now Fox Sports has come up with the FoxKopter, a remote-controlled device that can hover over the field and bring a bird's-eye view of action (others have SpiderCam, which is a camera mounted on a fixed line).
Fox has also come up with Cornerpost Cam, which is also being used in Super rugby, along with Ref Cam and Helmet Cam in cricket. If Storm captain Cameron Smith had one installed on him, it might be called the Cam Cam.
3. Warnie's spin
In a week when Dally M medallist Ben Barba was discharged from a clinic after his troubles with alcohol and Josh Dugan was embroiled in a stand-off with Canberra after being suspended indefinitely for skipping training on Monday and being caught drinking, Shane Warne said the Australian cricketers needed to sort out their issues by getting on the grog together behind closed doors. "As a leader I always thought if the boys weren't getting along or we weren't performing, then the best thing to do was to lock everyone into a room with some music, alcohol and everyone have their say to each other. Old school ways can still work well." Warne, of course, was stripped of the Australian vice-captaincy in 2000 for off-field issues and in 2007 labelled former coach John Buchanan a "goose" who was "living in pixieland". Many might now wonder what land Warne is living in.
4. Turning the table
It must be stressed it is only week one but the NRL table looks out of kilter with the Knights, Eels and Panthers occupying the top three spots. The three clubs, who aren't supposed to figure this season, might want to frame a picture of the ladder because it's not likely to last long.
5. Three out of four is bad
Dismissing what is going on at Cronulla, where Shane Flanagan has been stood down as coach and Peter Sharp installed in the interim, three of the four new NRL coaches suffered defeats in their first week in the job. Matt Elliott (Warriors), Mick Potter (Wests Tigers) and Trent Robinson (Roosters) were all on the wrong side of the ledger with only Ricky Stuart (Eels) enjoying victory.
Of course, one had to win with the Warriors and Eels coming up against each other.
6. Secret squirrel
Coaches are often asked by curious journalists what they said to their players at halftime. Warriors captain Simon Mannering admitted they got a spray from coach Matt Elliott at the break in last weekend's 40-10 defeat to the Eels. Elliott, however, wasn't willing to divulge his message. "I never share that sort of stuff. It's like what you tell your kids when they do the wrong thing. That's why the doors are closed." Let's just say it was intended for mature audiences.