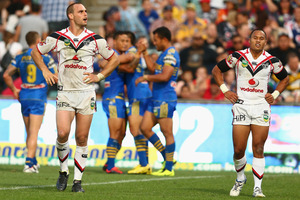 Self-doubt is crippling the Warriors from what I observed in the round one game against Parramatta.
They haven't cleared the wreckage of 2012. Unlike every other team I saw last week, the Warriors didn't look to be enjoying themselves.
It is only round one but this is already a concern. They need to get out of a funk very quickly otherwise the problems will accelerate.
This is a major task for new coach Matthew Elliott, still coming to grips with the dynamics of his players.
The players looked suffocated by doubt. The club looks very well prepared throughout the grades so fitness isn't the issue.
The men who need to lead this team out of a hole are halves Shaun Johnson and Thomas Leuluai and neither got their role right on day one.
Johnson is an instinctive player who likes to crab across the field using decoys but this isn't the right tactic early in games.
Perhaps he could take the defence on initially to keep them honest, but then stand square of the ruck to play the game wide. His role needs to be simplified and more defined, especially early on.
Leuluai likes to get his head down and do everything himself and this prevents him from being able to see his overall influence on the team.
He needs to step back and start organising people around him. I think he has the capacity to do that but his mentality doesn't work that way.
The Warriors were one-dimensional and you won't succeed in the NRL these days with that game.
Their opponents at Eden Park, the Roosters, have halves Mitchell Pearce and James Maloney who like to play square. They will be the envy of many teams because of that.
I was most impressed by the way Sonny Bill Williams went about his first game back in the NRL.
He stuck to the basics, not overplaying his hand. SBW has become a mature sportsman and will be a very influential figure this year.
He will be a league sensation again.