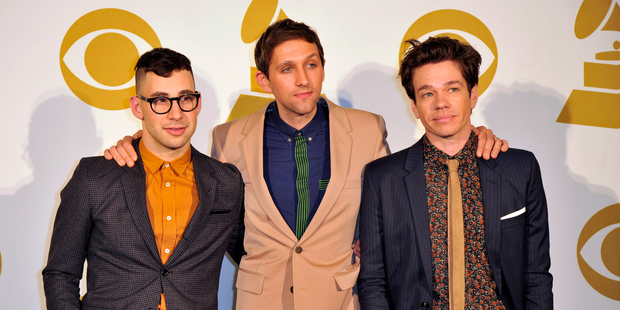 Hey, what are the guys from Fun (aka fun.) doing hanging out in the lobby having a drink with the rest of the rabble? It sure looks like the lads from the New York indie pop rock band, with their rolled up pants, flouncy florally shirts, super slick hair dos, and glasses that look suspiciously like accessories rather than having any practical use.
Turns out it wasn't Fun, because they would have been mobbed, such is the popularity of the biggest new band of last year having won Grammys for best new artist and song of the year for chest-beating, chart-topping hit We Are Young.
The things is, you really know you've made it when your fans start dressing like you. And when the band appeared on stage, to piercing screams from the sold-out crowd, it was clear we were in the presence of rock stars because no one else could get away with wearing a suit coat, and black leather shorts with leggings underneath like singer Nate Ruess does.
Of course, songs off their second album, Some Nights, which peaked at No. 3 here, dominated the setlist, including All Alright which came complete with a mass swinging of hands from the crowd.
There were a clutch of songs off lesser known first album, Aim & Ignite, the best of which was The Gambler with multi-instrumentalist Andrew Dost and guitarist Jack Antonoff whipping up a brief but cool chamber music style duet. And there were a couple of covers, with the impromptu version of Paul Simon's Me and Julio Down by the Schoolyard more silly and, well, fun, than anything else, before the main set ended with a solid rendition of the Stones' Can't Always Get What You Want, including a star turn on the flugel horn by Dost.
But it's a ballad like Why Am I the One when you realise why Fun are so big, because while it nudged middle of the road territory, it also had some quirky and fruity twists. And the diverse crowd reflect this, from the devout young things refusing to leave their front stage vantage point, through to very young girls with their mums, to elderly fellas (as in wrinkly and balding) who still like their pop music a bit arty.
They also got a thigh-slapping groove going on on One Foot, It Gets Better managed to bring together a metal chug, a punky emo bounce, and thudding Bruce Hornsby piano chords all in one, and their other big hit, Some Nights, with its overwraught vocals and rumbling world music beats, was like a cross between 80s act Starship and Michael Jackson's They Don't Care About Us.
Earlier opening Kiwi acts included rising pop starlet Ruby Frost, and dance rockers Kids of 88 worked the crowd into a lather with the oonst rock sleaze of Just A Little Bit, and finale, My House, still a banger with frontman Sam McCarthy hardly having to sing as the jumping crowd shouted the words back at him.
Fun found themselves in a similar situation for most of their 80-minute set, with the rousing beauty of We Are Young a late-set sing-a-long highlight.
"We knew New Zealand was going to be like this even before we went on stage. We knew it was going to be the best f***ing crowd," beamed Ruess.
They were a likeable bunch, and as you'd expect, a hell of a lot of fun too.