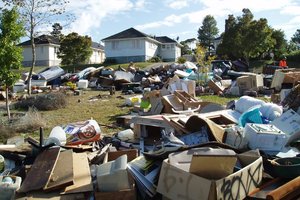 The saying goes that one man's trash is another man's treasure. That's certainly true in the case of inorganic collections in which householders pile their unwanted goods on the footpath to await a council-organised pick-up.
In the interim, enthusiastic treasure hunters patrol the streets looking for desirable items - or, for that matter, even semi-desirable items. In short: they harvest the good stuff, leaving only the rejects for removal and disposal.
Not being a native Aucklander, I marvelled the first time I witnessed such a phenomenon. Suddenly our neighbourhood had come to resemble downtown Beirut, circa 1975. The entire suburb looked shambolic and unloved.
More importantly, I wondered how people could possibly accumulate so much junk in their homes. As a minimalist it just didn't make sense to me. Why hadn't they dealt with these goods as they became surplus to requirements rather than wait until they had enough to form a miniature mountain on the grass verge?
But time passed, and 12 years ago it was my turn to give the inorganic collection a try. We'd recently installed a new kitchen and central heating system so a microwave and dehumidifier were in need of a new home. The microwave's black glossy casing was not in keeping with the vibe of our new kitchen but it still functioned perfectly. I watched a van-load of people creep past then reverse before inspecting and loading it. I was glad to think that another family would put it to good use.
What happened next would put me off participating in inorganic collections forever. A gentleman in another van stopped to inspect the dehumidifier. It was clean and fully operational with not a scratch on it. I expected it to be swiftly loaded and whisked away.
I was wrong. The man proceeded to spend the next thirty minutes smashing it up. He hammered at it with an object to fracture its white casing. He picked it up and threw it against the pavement many times. He ran after it whenever it landed on its little castors and rolled away down the hill. He jumped backwards when he punctured some inner mechanism and Freon fizzed noisily out towards him.
Sweat rolled down his face as he continued the assault. After 15 minutes he returned to his van for a rest and some refreshments. Then he continued with the destruction. Finally, when the appliance was in many small pieces and unrecognisable, he drove away.
I was reliably informed that he would have been intent on harvesting this machine for whatever copper it contained. It made little sense to me as I'd have thought an intact dehumidifier would have been worth more on the second-hand market than the metal he managed to retrieve.
The women in my book club looked at me as if I was mad when I recounted this story.
"If an appliance still works then you have to put a sign on it saying it's working," they said in a tone that implied any idiot should understand such points of etiquette.
"And, by the way," they added.
"If you ever need to get rid of perfectly good household items again just give us a call and we'll take them off your hands."
As it turns out, my choice of inorganic matter did not comply with local authority guidelines. The council's website states: "Inorganic material you put out for collection is taken straight to landfill. If your items can be recycled or re-used, please do not put them out with your inorganic collection."
Yet it was witnessing the legions of people picking minutely through piles of goods that gave me the impression re-homing objects was a key part of the exercise. It's certainly a practice that continues to be tolerated. Last year Auckland Council dropped a proposed clause - designed to "reduce harm and nuisance caused by people smashing apart televisions and other goods for steel and copper wire" - that would ban such scavenging.
Oh, and for the record: Freon takes a very long time to wear off footpaths. For many months, the stain was a daily reminder of my first and final flirtation with inorganic collections.
What do you think of inorganic collections? Are they a great way of getting rid of unwanted items? Are they a source of treasure if you know where to look? Have you ever been traumatised for life by one?