Key contains himself as humour about wives and marriage rolls off Latin American leaders' tongues.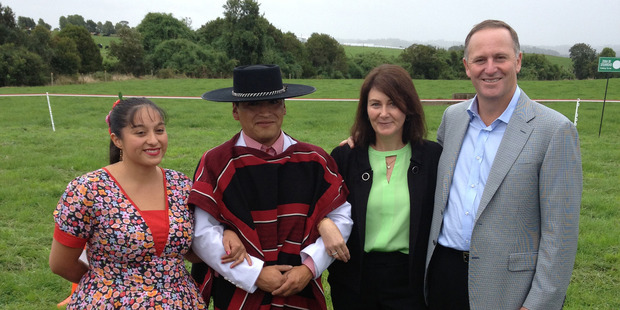 Key had never met three of the four leaders on the trip. If any subject matter has universal appeal as a source for humour, it is the perils of wives and marriage.
These matters came up time and again during Prime Minister John Key's travels around Latin America over the past 10 days.
In Chile, the chairman of Fonterra's Chilean company, Soprole, Geraldo Varelo, said Chile had the same relationship with Argentina as men with women: "We love them dearly, but we don't always understand them."
The wife of Ricardo Rios, head of the NZ-Chile dairying joint venture Chilterra, had demanded he buy a farm if he was to marry her. He was a computer engineer at the time and the farming had not gone well. His father warned him that working with New Zealand investors would lose him both his land and his wife. So he went out armed with jugs of pisco sour to woo the New Zealand investors.
In Sao Paulo, Brazil, we were told that the long stretch of the Via Paulista was likened to a marriage because of the streets that crossed it at top and bottom: "It starts at Paradise and ends in Consolation."
Key had to restrain himself somewhat; his wife, Bronagh, had come along.
In terms of international relations there is no rule of monogamy. In fact, countries collect as many spouses as they can persuade up the aisle. However, with the exception of Chile, the Latin American countries are slightly more distant relations for New Zealand - more like second cousins twice removed.
The Latin America strategy of NZ runs to pages, but can be summed up into four words: softly, softly, catchee monkey.
It has been 10 years since a New Zealand Prime Minister visited a Latin American country other than for an international conference such as Apec meetings. They are vast countries with large populations wrapped up in their own concerns and more involved with the United States - so some effort is required. Those countries are not likely to see New Zealand batting its eyelashes at them from across the crowded ocean.
Still, some of the best relationships are built on distance and in his pitch for more trade links and votes for New Zealand's bid for the Security Council, Key was hoping that a bit of distance would make the heart grow fonder and the trade grow stronger.
On the face of it, such trips appear to roll by in a flap of ponchos, sombreros, handshakes and platitudes. Much of what was announced was already hammered out between officials and the press releases typed up before the air force Boeing 757's wheels even lifted off the ground in Whenuapai.
That does not mean Key's visit was unnecessary. Politically, it was what was not in the pre-planned announcements that made the trip a success for Key.
There were two surprises which would not have happened had he not gone on the trip. The first was Colombian President Juan Manuel Santos saying Colombia was keen on free-trade talks. That came in response to media questions rather than in the official statement. The second was Brazil's President Dilma Rousseff indicating Brazil was leaning toward supporting New Zealand for the Security Council seat in 2015 - a matter on which she had been expected to stay silent.
The other three countries - Colombia, Chile and Mexico - had publicly voiced support but Brazil does not reveal its stand on the issue. Although Key is publicly playing down New Zealand's chances, that delivers an important bloc of votes New Zealand's way. Key hopes that New Zealand's distance will be a virtue in that election - it has fewer vested interests than many other countries and is generally trusted as a straight broker.
Beyond those specific announcements, Key pointed to an equally valuable gain - his own relationship with the leaders of those countries. Key had never met three of the four leaders on the trip - and he puts great store in building up a personal relationship with other leaders to help smooth the wheels when needed. That is why he issued invites to all four leaders to visit New Zealand in return.
It was not all a one-way street. In Chile, Maori issues were raised often as Chile tries to deal with its own indigenous groups. President Sebastian Pinera suggested New Zealand could be a good example to learn from in that regard. New Zealand's experience with geothermal energy and farming were also of interest to Chile.
In Colombia, it was a request for support for that country to be recognised as an OECD nation - support New Zealand has given. In Brazil, it was New Zealand's rugby skills - Brazil will be playing in the Sevens at the Rio Olympics in 2016 and it is apparently keen to avoid the humiliation of being an Eric the Eel in its own country.
It was back to Soprole's chief executive again who came up with what he believed was the best tool for international relations. Silvana Schenone, a Chilean lawyer in the delegation, was a friend of his - she had moved to New Zealand after meeting a New Zealand man. He told this tale, and with a flash of Latin passion, said one thing trumped politics and business in international relations: "Nothing brings people together better than love".
As for Ricardo Rios - he still has his wife.