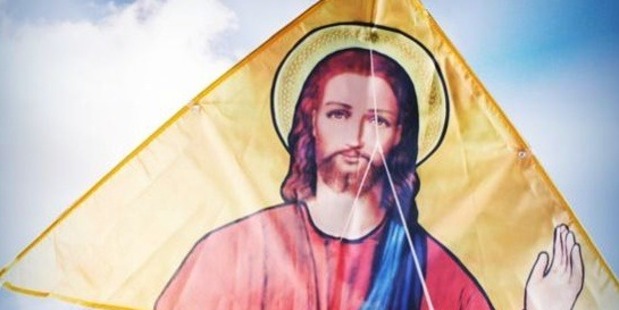 Jesus on high
Spotted on Firebox.com: "This traditional-style kite has a sturdy triangular frame and a large wingspan, which features a beatific image of Mary's immaculate child watching over us. All you need [is] some open space and a wind and a prayer, to watch your Jesus Kite rise again, and again. Jesus smiling down from on high? It's an Easter miracle."
Got periodic table elements if you want them
A reader writes: "My 9-year-old son, Conrad, is crazy about science. He knows the first 20-odd elements of the periodic table by heart and is always trying to collect them in their purest form, such as carbon and iron. He even tried home experiments, such as creating hydrogen and oxygen out of water and then storing them. This has not gone unnoticed by his 6-year-old sister, Crystal. The other morning at the breakfast table, she noticed the nutritional information on the cereal box said the average quantity per serving contained sodium 60mg, potassium 2mg, calcium, iron, etc. So she yelled out, 'Conrad, I've got sodium and "pot-is-um" in my bowl if you want it'."
Newspaper becomes an offensive weapon
Overzealous security guards barred a 57-year-old retired firefighter from entering a football ground with his newspaper - saying it was an offensive weapon and he might set it on fire and start a riot. Two security guards at Stoke City's Britannia Stadium blocked Chris Barmby's way into the ground and told him to put his paper in the rubbish bin. "It was absolutely ridiculous ... The worst thing was I hadn't even read it."
When 'helping' becomes unhelpful
The Five Worst Things People Do When Trying to "Help" (courtesy of www.cracked.com)
5. Making it all about you (instead of just listening).
4. Giving meaningless advice just to be saying something.
3. Forcing your help on them (or giving the wrong kind of help).
2. Declaring their problem solved, then walking away.
1. Not knowing when to back off.
Writer John Cheese says of No 1: "This is the single hardest part of being a friend, and by far the hardest to know when to implement."
Video: If you are wanting to know if you are really human, take The Human Test (Volume 1) and (Volume 2)
Politics: Irish Senator Fidelma Healy Eames wants legal measures put in place to prevent 'fraping' (a terrible buzzword to describe when your Facebook account gets metaphorically raped). That is when people horse around and change the details on a friend's Facebook page when they leave it open. She also wants the the identity of every Irish internet user be placed on a database along with their IP address to combat trolling ... Sheesh.
Maps: How parched is New Zealand? Check it.
Video: Woman was swept away by his romantic proposal...literally.
* Got a Sideswipe? Send your pictures, links and anecdotes to Ana here.