Constant chest-beating from Wellington has blinded residents of the Big Smoke to their city's superior wonders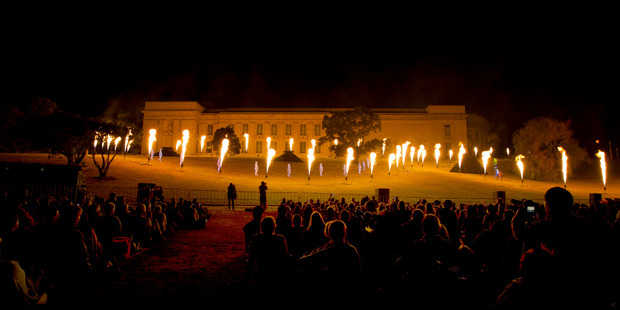 Backs arched, teeth bared, claws out, Auckland and Wellington today remain locked in a deep-seated, decades-old rivalry. Or Wellington does, anyway. Auckland couldn't care less.
And that, for seething Port Nicholsonians, is the most infuriating thing of all. "Absolutely positively can't beat us on a good day; we're the cultural capital," bellows Wellington at Auckland, in its very best stage voice. "Hi! Good for you," replies Auckland, before wandering back out to the deck to stare at the horizon and plan tomorrow's commute.
Parochial Wellingtonians could, therefore, be forgiven a squeal of delight at seeing one of New Zealand's finest commentators, the voice of Auckland, Brian Rudman, denounce in the Herald this week the "Big Lie" of Wellington as the cultural capital. That "deeply ingrained ... myth" had been given fresh currency by a just-published report, co-commissioned by Auckland "economic growth agency" Ateed.
And they had failed, bewailed Rudman, to point up the debatable - or wrong - assumptions about the city's cultural assets.
They'd swallowed it without so much as a fact-check or quibble. And in doing so, they echoed the population more widely. "It's as though Wellington's Big Lie has brainwashed not just its own citizens, but the majority of Aucklanders as well."
A similar point was made four years ago in Metro magazine by Simon Wilson, a former Wellingtonian, in a feature that demonstrated how, measured by scale, influence and power, Auckland is irrefutably the "epicentre" of New Zealand arts. And yet, he wrote, somehow the perception persisted - Wellington as the city of culture, Auckland still dogged by the "reputation of a philistine city".
Look around, and it's clear that Wilson is right - that reputation is nonsense. The Auckland Arts Festival, which opened this week, has a programme full of quality and fire. The Pasifika Festival, which turns 21 this weekend at Western Springs, is unique in the world. In May there's the Auckland Writers and Readers Festival, the Film Festival at the mighty Civic a couple of months later. The Diwali splendour, the music in parks, the movies at Silo Park, the Art Gallery, the Museum, the range of theatre - on and on the list goes.
All of that is to be applauded and treasured. But the killer fact, as Rudman notes, is that 90 per cent of Wellingtonians consider themselves, according to the recent Nielsen Quality of Life Survey, to live in a city that has "a culturally rich and diverse arts scene". In Auckland, the corresponding figure is 39 per cent.
That's a shocking contrast. But it squares with anecdotal evidence. In Auckland, you experience culture if you attend it. In Wellington, you don't have to actually take part to feel part of it. Wellington is palpably, vocally, unmistakably a city of culture. Auckland is a city of many cultures. But it doesn't have the feel of a city of culture.
The cultural and artistic richness of Auckland seems somehow insulated from Auckland itself. To a degree that's a big-city thing, but it's by no means inevitable or permanent. Part of it is the public transport (hundreds of people disgorging from an underground railway station at Aotea Square could properly transform concrete muddle into cultural nucleus), part of it is the sprawl. The Auckland Plan sees this, it points in the right direction, and should be defended in the face of Government ministers' retrograde stances on transport and land supply.
But there is also something to be said for re-engaging in an old-fashioned, friendly enmity with Wellington. When Wilson's Metro piece was published, it sparked a predictably furious reaction from the capital. How very dare they? But in Auckland, of course, it provoked something more like an, "Oh, right". Auckland needs to be roused.
A neutral observer wrote in the Marlborough Express in 1909 of the Wellington-Auckland rivalry, forged in decades of wrangling over the location of the capital and perceived attempts to poach each others' settler populations. The paper's correspondent described the "extraordinary self-conceit and jealousy of Wellington which afflicts the average Aucklander". We could argue about the endurance of that first part, but the jealousy has dissipated almost completely. And it might do Auckland good to rediscover it.
Disclaimer: The author is a born and bred Wellingtonian, who used to tell people that the wind in the capital was a good thing because only the strong-willed stayed, while the dickheads went to live elsewhere. He now lives in Auckland.