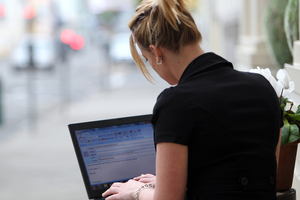 Maybe I'm being pedantic, but I sincerely believe that even at the ripe old age of 60 I deserve a reply when I apply for a job.
I'm a freelance who loves to write. I'm only truly content when I have a writing job on the go - and preferably there's some payment at the end of it. As all those involved in the media know, the freelance market is now very tight and many publications who used freelancers willingly in the past are now sticking to a policy of using staff writers only.
Over the last three years or so I've seen some of my steady little earners disappear. And so I sought out Seek for a nice little part-time number.
Others doing the same will know that's there not many exciting and lucrative part-time writing jobs out there. So when a copy writing/researcher job was listed in December and I got a prompt reply saying my application had been received and they'd be in touch if a face-to-face meeting was to happen, I was gleefully hopeful.
And you could do the job from home. So I could still enjoy my cat, my own music and garden and not have to face that motorway. Right up my alley!
Well, this buoyed me up during the Christmas season. I kept visualising the freedom of again having a basic independent income while I puddle away with other writing projects. This independence is so important - and probably when I reach pension age it will have been moved up to 70.
I do have a slight leaning toward the "Luddite Movement", but I can still operate my computer to churn out readable copy. I studied journalism in the hard old school on an evening newspaper where we covered everything from shipping movements to the New Zealand Open golf tournament (admittedly I did have to be walked around the course and taught some rules before the first ball was hit) and the Supreme Court (as it was in those days).
After the holidays, I tidied my desk and looked forward to the interview. I kept checking my emails and was explaining the lack of reply away with the sunny weather, thinking "they'll still be lazing in the sun at Omaha or Langs."
By January 17, I pictured my potential employers back at their desks and just clearing a backlog of work before they could get back to me. Sounds oddly pathetic, but positive visualisation often works. I emailed them to speed the process up and the reply came through that I hadn't been successful that time. Very nicely worded reply it was and they wished me well, but why could they not have replied earlier? Do these employers have any idea just how many people out there do expect to be notified - even if it's a very firm "no."
Perhaps I am being very old-worlde, but isn't it basic courtesy? I broached the subject with a young man very close to me who works for a very large local company. He reckoned I was being unrealistic as it was often impossible to cope with an ocean of rejection letters.
Surely someone out there can develop some marvellous program whereby there are set (and very succinct) replies. Then all an administrator has to do is handle a pile of emails by pressing the relevant button. Replies could include:
-You're too b***** old.
-Are you dreaming?.
-Hopelessly under-skilled.
-Don't like that foreign moniker.
Or simply a one-liner saying "you were not successful in your application" would be appreciated.
Yes, I know I'm old-fashioned, but I still believe every job application (from a school leaver to someone in their glorious eighties) deserves the right of a reply.