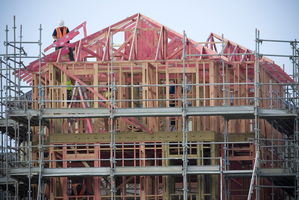 Building a house can be an ugly process. Building firms fail faster than Taylor Swift updates her paramours.
It is for this reason that outfits like the Registered Master Builders Federation exist. The idea is straightforward: if the builder fails, the federation will stand by its members' work.
Kind of.
If you deal with a federation member, or similar organisations such as the Certified Builders Association, they will proudly tell you that their work is guaranteed.
It isn't. A guarantee is something the customer must pay for. It does not come free with a building contract. Some builders may offer to bundle the cost of the guarantee in with the total package price, but the guarantee sits with the federation.
Once you sign with a Master Builder, or a certified one, you can be offered the option of a guarantee.
Prices vary but about $1000 is typical. For this you get different degrees of cover, capped at about $100,000.
This month I have been liquidating a company called Location Homes North and several customers have been caught short, thinking they had a Master Builders' guarantee when they didn't. Their contract with Location Homes North confirmed that a Master Builders' guarantee would be provided, but the company did not pass on the customers' details or cash to the federation. They are uncovered.
One customer paid a $37,000 deposit. It turned out this "master builder" didn't do the paperwork and when his company fell into liquidation, her money, like his business, was gone.
This is not the federation's fault. It does not offer to stand by all its members' work, and cannot afford to. Its offering is narrow but this was not obvious to those customers of Location Homes North.
The federation has paid more than $100,000 of claims on this liquidation to date, so the guarantee has real value - if you have one. If you want a guarantee, you should get the paperwork from the federation before paying a deposit.
Trust your builder to build your house - and nothing more.