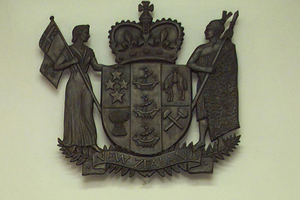 No good can ever come of racing matters being judged by common law.
This week we saw the High Court hand down an opinion that the chairman of the Racing Industry Board, Dr Alan Jackson, was appointed by the Racing Minister Nathan Guy in July last year overlooking Jackson's connections to the thoroughbred arm of racing.
The Greyhound Racing Association asked the High Court to rule on whether Jackson could be seen as an independent.
The court ruled that could be compromised.
Let's put some sense into this.
Jackson's doctorate is aligned to economics and he served in a variety of global leadership and management positions.
He has more than 25 years' experience in business, specialising in business strategy, performance improvement, growth and organisational effectiveness.
Racing, and particularly greyhound racing, was damn lucky to have someone of that calibre heading a board that controls all three codes, galloping, harness and dogs, as well as controlling the TAB betting on racing and sports.
The greyhounds have a representative on the Racing Board as do the other two codes. How could Jackson possibly act with bias towards galloping without it quickly becoming obvious to the board he chairs and to the three codes themselves.
This ruling, and the greyhound industry itself, have not suggested Jackson has even slightly acted outside his mandate, only that he "could".
Yeah, right.
The High Court probably had its hands tied in making its ruling, which, under law, probably made sense.
But racing is a very intricate industry to which only a few of the laws of the land could apply literally.
Before Jackson's sensible appointment, racing had long suffered from those with millions invested being told what to do by those with nothing invested.
Jackson races a few gallopers, owns broodmares and has a financial investment in a Matamata stable.
So what is it he's going to do to disadvantage the dogs and advantage himself?
Any administrator worth their salt will have some involvement in the industry they originate from.
Do we eliminate all those and seek a chairman from those who don't know the difference between a sulky and a saddle.
Yeah, that's a good idea.
In the late 1970s or early 80s Joal and Beaver Boy fought out a close finish to the Rotorua Cup and a protest was lodged. They changed the placings on the day, then that was appealed against in common law court and again reversed.
It became so much of a farce (try finding someone who remembers who originally won the cup and who ended up with it) when it went to court two or three more times that Thoroughbred Racing banned taking race results to court.
If it was deemed the court had no place in racing then, what are we doing now.
This week in Australia disgraced jockey Danny Nikolic copped a break because he appealed against his two-year disqualification to the Victorian Civil & Administrative Tribunal, a government agency.
He had already been turned down by racing boards, which had asked for an increased penalty.
Nikolic had been accused of threatening chief steward Terry Bailey at Seymour races in September, allegedly saying: "We've all got families ... and we know where yours lives."
The high-class horseman is also likely to face charges for threatening steward Wade Hadley during one of the hearings, also for admitting having lied to one of the hearings held by the Racing and Disciplinary Board.
The threats had a more sinister air because Nikolic had been questioned by police over the shooting murder of his former father-in-law Les Samba in Melbourne last year.
Despite all that, the VCAT reduced Nikolic's two-year disqualification to one year then one year of suspension, which means he can apply to ride trackwork and in barrier trials in September, but not ride in races until next year.
Racing gave Damien Oliver 10 months' disqualification for betting on the winner of a race he rode in.
You won't know many who would not rather be rorted on a bet than have their partner and family threatened by someone with criminal connections.
Leave the courts out of racing.