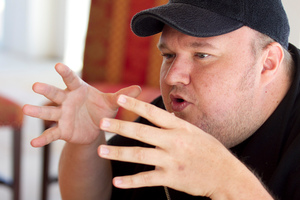 How refreshing to wake up to some rain: It makes a welcome change from the brilliant summer we've been having, but has made little difference to my garden which is parched and brown.
And how refreshing it is, among all the stories about the sweltering drought, not to hear from those enfants terribles of New Zealand weather - El Nino and La Nina.
Is it that they have fallen out of fashion with our climate commentators or have they embarked on some other meddlesome mission elsewhere on the planet?
For years we heard from our climate scientists that the Southern Oscillation - either El Nino or La Nina - was responsible for whatever weather we were experiencing and, therefore, we had something to blame for the lack of milk production, or lack of summer.
Perhaps this year we've stopped listening to those soft-handed, clean-finger-nailed grey beards who for centuries have sought to explain natural phenomena to appease our worries with hypotheses that were impossible to prove.
Imagine, thousands of years ago, a valley-locked tribe might have trouble explaining flashing lights in the sky associated with a thunderstorm and the grey beard explains it is the dragons attacking the next village. The modern-day grey beards were blaming two Latin-American innocents for the vagaries of meteorology that even the most powerful of computers are not able to predict with any real accuracy.
Maybe it's time for a new theory. My hands are soft, my fingernails clean, but I have no beard. I guess two out of three isn't too bad so I have another way of explaining this glorious summer of our content: Kim Dotcom.
Our Mega-man has appeared in all manner of news stories of the past year: courts and crime; politics; international relations; business; arts and entertainment; Sir Paul Holmes. So why not weather?
I postulate that Mr Dotcom is somehow controlling our weather like an arch-villain in a James Bond story. Tens of metres below his Dairy Flat mansion he has constructed a laboratory filled with complicated machinery that keeps the rain at bay and the sun shining and keeps us all happy while he constructs a tunnel to the base of Rangitoto from where he will launch his North Korean-procured nuclear missile aimed at who knows where, but probably the FBI headquarters in Pennsylvania Ave, Washington DC.
So what menace are the grey beards turning our attention to? Enter stage left 2012 DA14 - the near earth object that will pass just 27,700km from Earth at 8.25am on Saturday.
Apparently this 45m chunk of rock will skim past the outer reaches of our atmosphere at 8km a second and return at some later date.
But what if an impact with a piece of space junk slows it down enough to change its course? Could it suddenly enter orbit around the planet or, worse, crash, exploding with the force of a powerful nuclear warhead? If you were the grey beard, would you want to tell everyone with the resulting widespread panic on your hands?
I read this tweet the other day: "Portraits of all popes ring St Paul's Outside the Walls, Rome. 1 spot left and 12thC prophecy says world ends when all spaces taken ..."
See you all on Sunday.

Alex Robertson is an Auckland-based earth sciences graduate and James Bond fan.