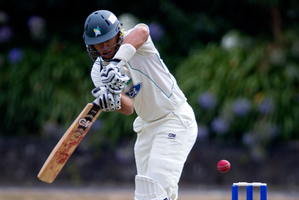 How early is too early to drink alcohol on a Thursday? It was a question I'd been pondering all morning watching Central Districts play Auckland at Eden Park outer oval. I was there because Ross Taylor was playing but watching a first class cricketer stand in slip for a day does strange things to a man. It was driving me to the bottle.
I called my dad to ask his thoughts on my drinking conundrum.
"What are you drinking?" he asked. "Because if it's beer and you're not on holiday then 4pm is probably an okay time to start - any time before then affects the rest of your day."
"And spirits?" I asked.
"I hope you wouldn't have the urge to drink spirits in the morning ... ever," he said disappointedly.
I've always thought it should be illegal to open a KFC before lunchtime but the Bert Sutcliffe lounge under the Merv Wallace stand at the outer oval stocks everything you'd want to affect the rest of your day - both positively and negatively.
In between sweet sips of Jack Daniel's, I occasionally glanced out through the windows towards the block to see if I could tell anything from Taylor's body language. His whites certainly looked whiter than those of anyone else in the Central Districts team. Did he do his own washing? I know they pay people to clean the New Zealand team's clothes but who does domestic cricket white washing?
Other pressing questions floated through my mind. Where do these guys stay when they tour around the country? Are they billeted? I can't see them staying at the SkyCity Grand. I guess they stay at some mid-range accommodation - maybe a Best Western or something owned by that Canadian dude with the comb-over who appears in his own ads. Do they have laundry services at Scenic Circle hotels? Mike Havoc was a huge fan of hand-washing his clothes when we toured together, but I can't imagine Doug Bracewell hand-washing his whites or applying Friend Direct after bowling 10 overs on the trot.
Of course I wasn't going to find the answers today. The Central Districts management had imposed a media ban on LRPL Taylor. Ross was totally off limits. He's clearly tired of talking about the captaincy - poor guy. He must get approached by muppets nationwide, sucking the life out of him by raking over the ashes of his tenure. Of course, I wouldn't have raked or sucked. I'm sure he'd be overjoyed by my line of questioning about accommodation and laundry services - two areas of interest often overlooked by the mainstream cricket media.
As I settled into Jack Daniel's No6 just after midday, my blurry-eyed attention drifted from Ross' off-field ablutions to the size of Kruger van Wyk's feet, pads and gloves - another area of questioning neglected by the mainstream cricketing press. From a distance it looked like Kruger wears youth gear but it's hard to be certain. Colin de Grandhomme (literal translation from French; Colin of Big Man) looks like his pads are half van Wyk's height. The JDs were starting to have their way with me. I had no idea of the game's situation.
By the luncheon break I was eight or nine sheets to the wind. I wandered around to a shady spot on the bank by the nets and nestled down for a rest while Stuart Broad, Ashley Giles and an assortment of hangers-on practised bowling on the block.
As I lay there half awake I dreamed about New Zealand's best batsman, Taylor, and how, in the after time, the fans would look back on his career fondly. And how they would feel with all his simple sorrows, and find a pleasure in all his simple joys, remembering their own cricket experiences, and the happy summer days.*
* With apologies to Lewis Carroll