All sorts of athletes don't let physical truths dampen their desire to get in the ring with opponents off the field.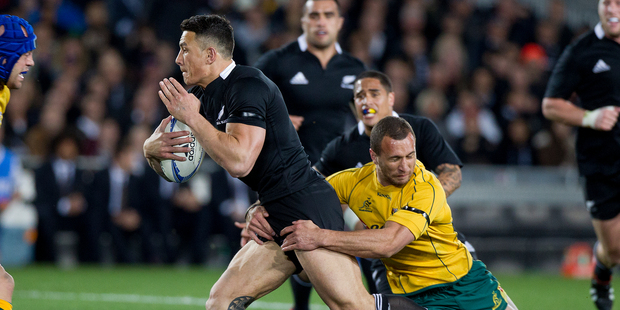 The vogue for top sportsmen taking up boxing despite, in many cases, their physical unsuitability is a modern oddity.
In December in Auckland, I ran across potentially one of our greatest ever batsmen, Jesse Ryder, off to watch the promising young heavyweight Joseph Parker who, with former Supreme Court judge Bill Wilson, I co-manage.
"Jesse, you should be in South Africa", I scolded.
"Bugger that. I want to fight", he declared. Pointing out his physical shortcomings for boxing fell on deaf ears. "I want Flintoff", he declared boldly.
"He's 6ft 4 inches", I said.
"Don't care, I'll murder him", Jesse replied, and judging by the former English test captain's recent inept winning pro-fight debut, he probably would.
Afterwards, Flintoff said the experience surpassed anything, including the Ashes triumph, for sheer exhilaration, a point also made by Ryder following his first bout last year.
Footballers seem particularly susceptible. Wallaby star Quade Cooper makes his ring debut this week while the fickle Sonny Bill Williams, ever flitting between teams, countries and codes, recently declared his real passion lay with boxing. Even the most tactically creative tennis player of the modern era, Andy Murray, after his US Open victory and Olympic gold medal last year, told an interviewer what he'd really love is to box.
British heptathlon Olympian Louise Hazel announced she was contemplating taking up boxing. With her athleticism and stunning beauty she'd be a promoter's dream. But this sporting star's enthusiasm is more widely shared. To the (financial) delight of city boxing gym owners, white-collar boxing is booming worldwide, reminiscent of the Regency era two centuries earlier.
As historian Arthur Bryant described in The Age of Elegance, it was a time when every man about town took boxing lessons and no self-respecting university student lacked a picture of the English champion on his wall.
Then there's women. They're now into boxing gyms everywhere and loving it, the most recent notable recruit being Justice Minister Judith Collins.
A huge pleasure in my life is my association with the best events promoters this country has seen, namely the Runyonesque Duco duo of David Higgins and Dean Lonergan. They're fearless, imaginative and often gloriously outrageous. David uses me as a sounding board, and I opine on such topics as why a Jeffrey Archer dinner won't sell in Wellington or why Invercargill's a better bet than Dunedin with his Graham Henry dinners. I treasure every call with David's opening line, "I've got an idea".
A week ago he phoned. "I've got an idea. Do you know Judith Collins?"
"Not specially," I replied, bracing myself.
"Well, she's taken up boxing. Do you reckon she and David Bain would go four rounds for a hundred grand each?"
"No." A pause ensued.
"Anyway," I added after a while, "you can't do it as if the judges voted Bain the winner, she wouldn't accept it. She's got form, remember."
"Good God, you're right," David said, alarmed. "That sort of carry-on would spoil the dignity of the occasion. We can't have that."
An hour later he rang again. "I've got an idea. We match Collins with that Wellington blowhard. You know, the lisping bloke with the attention deficit disorder."
"You mean Gareth Morgan?"
"Exactly! It would be huge."
"She'd murder him," I said. "It would be all over in a minute."
"Precisely! That's the big attraction," David cried excitedly. "The whole country would pay to see him dealt to. We'd fill Eden Park. And think of the pay-per-view sales. We'd set a record."
"And why would Judith Collins be in it?" I asked.
"Got that covered. Currently she's in disgrace over Bain. We'll brand the promotion 'REDEMPTION - Crusher Collins versus Morgan the Mouth'. She blasts him insensible and instantly becomes the most loved politician in the land. She'd have to be in it."
"So why would Morgan?" I asked sceptically.
"Are you mad? He'll be a pushover - 50,000 people in the stadium and several hundred thousand television viewers all looking at him. That would be his dream of heaven. Also, we'll put Joseph on the bill and make it a family affair." (Parker is the Justice Minister's nephew).
A day later David rang again. "I've got an idea", he said, "Dino and I have been mapping out Collins' career after she's thrashed the show-pony. Do you know Labour's justice spokesman, Charles Chauvel?"
"Yes."
"Do you reckon he'd be in it against Collins?"
"No."
"Not even for fifty grand?"
"No."
"Doesn't matter. We've Googled justice ministers everywhere. We could have Australasian, Commonwealth and ultimately World Championship Justice Minister title fights. She'd whack the lot".
"David", I interrupted, "have you heard of Mrs Beeton?"
"Who?"
"Never mind. Just apply her advice - namely, first catch your hare".
"Good point. I'll contact Collins now."
And knowing David, he'll probably persuade her.