The Big Day Out would have been held in New Zealand this week, had it not been cancelled last year. Here's what we missed out on.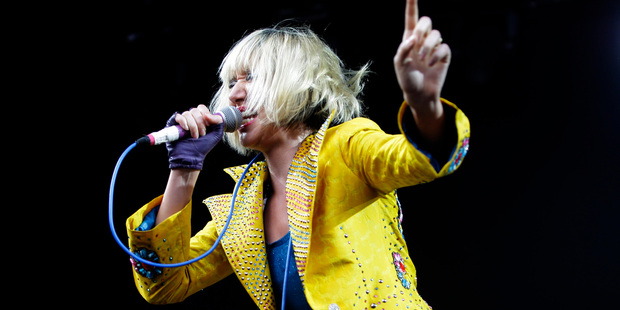 The Red Hot Chili Peppers have brought the opening day of Australia's Big Day Out festival to a fitting finale as Sydney sweltered in record heat.
With temperatures at the Sydney Showground topping 45C, many festivalgoers were concentrating on keeping cool.
But that didn't stop a huge crowd from cheering on the veteran rock band who dazzled with a 90-minute set of greatest hits.
To view photos from the Sydney Big Day Out, click here.
The show began with frontman Anthony Kiedis bounding onto the stage, clad in a long black trench coat and baseball cap, and breaking into the disco-flavoured Monarchy Of Roses from current album I'm With You.
Bassist Flea then flexed his muscles with an introductory solo before leading the LA group into Around The World.
Playing beneath a carnival-themed light show, the band barely paused for breath and Kiedis kept the talking to minimum, allowing Flea to spread the love with a heartfelt speech that extended to the "litter pickers and security", while he later delivered a bizarre poem.
Set highlights included the ever-breezy Scar Tissue, an epic sprawling version of Snow (Hey Oh), the customary crowd singalong to Under The Bridge and an extended version of Californication.
Yet some of the best displays of musicianship, often led by new guitarist Josh Klinghoffer, came during jammed interludes, especially a synchronized build-up to the funk-tilted Can't Stop.
Kiedis and Flea spent most of the show shirtless, a trend they started when the band formed more than 30 years ago, and shrugged off the sweltering conditions at a press conference earlier in the day.
"I personally like playing in the heat. It's good for the muscles and it's good for the voice," Kiedis said.
"Cold is my enemy on stage so providing the audience can survive the day I think we'll be in good shape."
It was a close run thing after fellow American rockers The Killers justified their tag as co-headliners with a blisteringly high energy set.
Opening with instant crowd pleaser Mr Brightside, the Las Vegas band tore through early hits including Somebody Told Me and Jenny Was A Friend Of Mine.
Singer Brandon Flowers was in electric form, bounding about as his band mates played powerfully through pounding versions of Human and Read My Mind.
The versatile frontman pawed at his keyboard through Somebody Told Me, rocked out with a guitar on For Reasons Unknown and led the crowd through an acoustic cover of Don't Dream It's Over.
Material from the current album Battle Born was kept to a minimum in favour of the well-trodden hits, although Flowers said before the show that he was excited to debut soon-to-be Killers classics like Runaways and Miss Atomic Bomb, the latter written as a companion piece to MR Brightside.
"We haven't done any festivals since the new album came out so we'll be breaking these songs in," Flowers said.
"But we have been touring them and they all have brothers and sisters that we've found with the old songs so we're enjoying that."
Earlier in the evening, the Yeah Yeah Yeahs offered a sneak peak into their forthcoming album Mosquito, launching straight into a new song Suck Your Blood.
Emerging in a bright yellow cut-off suit and knee high red socks, Karen O showed plenty of her trademark sass as she lifted the crowd from the heat-affected lethargy.
The singer pulled on a glittering face mask for a funky Phenomena, dedicated a stripped down Maps ("a Yeah Yeah Yeahs love song") to Sydney, and rolled a giant inflatable eye into the crowd as the set closed to a buzzing finale of Gold Lion and Zero.
Other highlights from the day included Vampire Weekend playing a blissed out set. Foals returned to Australia with their third album Holy Fire and Crystal Castles tore it up in the Boiler Room, ironically one of the coolest areas of the festival.
Big Day Out faces a critical juncture in 2013 as it attempts to reassert itself as Australia's major league music festival. Following the debacle of last year, when co-founder Vivien Lees walked out weeks before the first event, headline targets Prince and Eminem jumped ship to rival promoters, and the New Zealand leg was announced as the last due to poor ticket sales, the Sydney curtain raiser has been considered a pivotal moment.
Promoter Ken West has teamed up with C3 Presents, the people behind the Lollapalooza festival in Chicago, in a bid to tempt back the hottest acts, resulting in the inclusion of the heavily hyped Death Grips, Childish Gambino and Alabama Shakes.
The other major development was the addition of Chow Town, a series of pop-up restaurants selling top notch food overseen by Sydney's leading chefs.
Belying the myth that hot weather ruins appetites, by 6pm four of the six were cleaned out of food.
Fortunately, the highly regarded Avoca restaurant Rojo Rocket was still selling its headline themed dish to weathered punters, Red Hot Chili Peppers with a Killer sauce.
What: Big Day Out
Where: Sydney Showground
When: Friday, January 18
- AAP