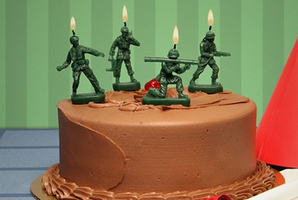 Cool cake candles from thisiswhyimbroke.com
Camp wastage doesn't wash
A reader writes: "At Tapotupotu Bay near Cape Reinga on Sunday we spotted a group of young people using the DoC campground shower to wash their car! Did they not know the water is brought in by tanker and is for all campers and day visitors ... it was especially wasteful when you consider the access to this bay is via a dirt road - so washing the car is rather pointless."
Costly battle with Telecom
"Does anyone else feel they are being bullied by Telecom into changing their mode of payment?" asks a reader. "For some reason I've dug my toes in about changing to direct debit and continue to pay my account by cheque. I didn't get a bill for one month and then got landed with a $14 late payment fee. This time their bill has been delayed - gone to the wrong address and required redirecting. They have changed not only my street address, but also the postal code, and interestingly, I also received a letter from Telecom at much the same time with the correct address and postal code.
This latest bill will also incur a late payment fee. Does anyone else have a similar story?"
Cop stressed from undercover sex
Former undercover cop Mark Kennedy filed for damages against the London Metropolitan Police, claiming post-traumatic stress syndrome based on the department's "negligence" in allowing him to have such a robust sex life on the job that he fell in love with a woman whose organisation he had infiltrated. Kennedy's wife has filed for divorce and is also suing the department, and 10 other women (including three of Kennedy's ex-lovers) have also filed claims. (Source: News of the Weird)
Did you know ...
1. Loganair, a Scottish airline, will fly you between the islands of Westray and Papa Westray in Orkney in the north of Scotland on what is the shortest commercial flight in the world. The journey covers less than three miles in about two minutes.
2. Taser is an acronym. It stands for "Thomas A. Swift's Electric Rifle".
3. A 2003 study showed that people who ate fish once a week or more had 60 per cent less chance of developing Alzheimer's than those who ate it less frequently.
Supermarket mix-up
Yesterday Murray from Titirangi said Waihi only has a Countdown supermarket but a few locals emailed in to say it also has a New World so residents have been able to use petrol vouchers in town.
Picture this: Artist Kerry Skarbakka captures himself in moments of suspended peril: falling from trees, slipping nude in the shower, or teetering on the edge of a railway bridge. See the pictures and read about it here.
News blooper: Lotto winner wanted to remain anonymous...
Local: This ad for an Auckland bar ran in Metro magazine. Looks like the vulgar 80s ran well into 90s...
Video: Another hilarious Bad Lip Reading clip...This time footage of NFL players and officials on the side lines is overdubbed with what it looks like they're saying...
Got a Sideswipe? Send your pictures, links and anecdotes to Ana at ana.samways@nzherald.co.nz