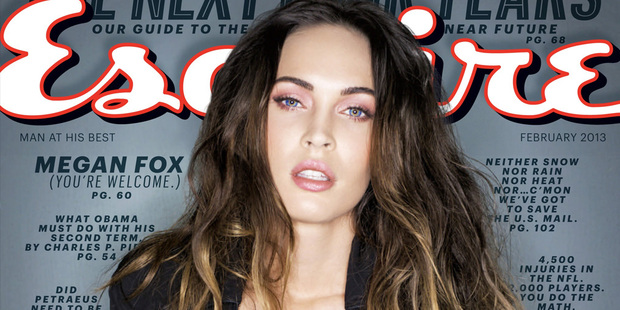 She's kept a bit of a low profile since embracing motherhood, but Megan Fox is making up for the radio silence with a dose of her trademark, eyebrow-raising candour in a new interview.
The erstwhile Transformers star, who welcomed her son, Noah, last September with husband Brian Austin Green, opens up to Esquire mag about fame, religion (she says she's familiar with speaking in tongues. More on that later), Bigfoot, leprechauns, and compares Lindsay Lohan to Marilyn Monroe (not in a good way).
Fox tells the magazine she wanted to be like Monroe, and has a tattoo of the late legend on her arm, but recently began the process to remove the ink.
"I feel like I willed it be gone. They told me it was going to take six sessions and it's nearly gone in one.
"I started reading about her and realised that her life was incredibly difficult. It's like when you visualise something for your future. I didn't want to visualise something so negative," she says.
Decked out in her underwear and flaunting her post-baby bod on the mag's cover, Fox then compares Lohan to Monroe.
"She wasn't powerful at the time. She was sort of like Lindsay [Lohan]. She was an actress who wasn't reliable, who almost wasn't insurable... She had all of the potential in the world, and it was squandered. I'm not interested in following in those footsteps."
Ouch. Yep, she's still very quotable.
'THIS MISCOMMUNICATION IS MY FAULT'
Fox has since clarified her comments.
"In the newly released article that I did for Esquire, there is a reference that is made to Lindsay Lohan that I would like to clarify before it snowballs into something silly," she wrote on her Facebook page.
"The journalist and I were discussing why I was removing my Marilyn Monroe tattoo, especially since in his opinion, Marilyn was such a powerful and iconic figure for women. I attempted to draw parallels between Lindsay and Marilyn in order to illustrate my point that while Marilyn may be an icon now, sadly she was not respected and taken seriously while she was still living.
She explained: "Both women were gifted actresses, whose natural talent was lost amongst the chaos and incessant media scrutiny surrounding their lifestyles and their difficulties adhering to studio schedules etc.
"I intended for this to be a factual comparison of two women with similar experiences in Hollywood. Unfortunately it turned into me offering up what is really much more of an uneducated opinion.
"It was most definitely not my intention to criticise or degrade Lindsay. I would never want her to feel bullied, as she does not deserve that.
"I was not always speaking eloquently during this interview and this miscommunication is my fault."
The actress then talks about the downside of fame, and compares it to being bullied at school.
"I don't think people understand. They all think we should shut the f**k up and stop complaining because you live in a big house or you drive a Bentley. So your life must be so great," she says.
"What people don't realise is that fame, whatever your worst experience in high school, when you were being bullied by those ten kids in high school, fame is that, but on a global scale, where you're being bullied by millions of people constantly."
Fox also claims she's no longer championing her sex symbol status.
"I felt powerless in that image," she explains. "I didn't feel powerful. It ate every other part of my personality, not for me but for how people saw me, because there was nothing else to see or know. That devalued me. Because I wasn't anything. I was an image. I was a picture. I was a pose."
'WHAT DISTRACTS ME FROM MY REALITY IS BIGFOOT'
She also admits to believing in aliens, leprechauns and the Loch Ness monster.
"I believe in all of this stuff," the 26-year-old says. "I like believing. I believe in all of these Irish myths, like leprechauns. Not the pot of gold, not the Lucky Charms leprechauns. But maybe was there something in the traditional sense? I believe that this stuff came from somewhere other than people's imaginations.
"We should all believe in leprechauns. I'm a believer. You and I are humans, this is not all of it. This cannot be, because we are so disappointing.
"Films don't hold the answers I'm looking for. Would you not be so much more interested in finding out that bigfoot existed than in watching a really good movie?," she adds.
"I believe in aliens. I am childlike in my spirit, and I want to believe in fairy tales. Loch Ness monster - there's something to it. There's the Bell Witch.
"What distracts me from my reality is Bigfoot. They are my celebrities."
The intriguing Esquire profile also includes other revelations. Fox says she's also familiar with speaking in tongues - something she first experienced at around the age of 8, when she attended a Pentecostal church in Tennessee.
"The energy is so intense in the room that you feel like anything can happen," she says.
"I have seen magical, crazy things happen. I've seen people be healed. Even now, in the church I go to, during Praise and Worship, I could feel that I was maybe getting ready to speak in tongues, and I'd have to shut it off because I don't know what that church would do if I started screaming out in tongues in the back."
She explains: "It feels like a lot of energy coming through the top of your head - I'm going to sound like such a lunatic - and then your whole body is filled with this electric current.
"And you just start speaking, but you're not thinking because you have no idea what you're saying. Words are coming out of your mouth, and you can't control it. The idea is that it's a language that only God understands. It's the language that's spoken in heaven. It's called 'getting the Holy Ghost.'"
Click on over to Esquire.com for the whole thing.
FAST GOSSIP
And finally...
* Taylor Swift tries to hook up with Bradley Cooper? In a word, no.
* Terminator 2 star Edward Furlong arrested on suspicion of domestic violence.
* Jingle hell? John Travolta and Olivia Newton-John planning more Christmas music.
* Sir Elton John and David Furnish become fathers for second time.
* More kids for Brangelina? "You never know with those guys," says Jon Voight.
* A new title for Charlie Sheen: Grandpa.
* "I went there and I started to feel a bit of the shade" - Nicki Minaj talks Mariah Carey feud.
* Prince Harry named most eligible bachelor...by Town & Country mag.
* Twins sequel still a go, says Arnold Schwarzenegger.
* By George! Clooney jokes he's had 'ironing' done on his testicles to get rid of wrinkles.
* Watch: Quentin Tarantino does the Pulp Fiction twist during a recent appearance on The Graham Norton Show...
Follow Myrddin Gwynedd on Twitter.
- Rumour Has It