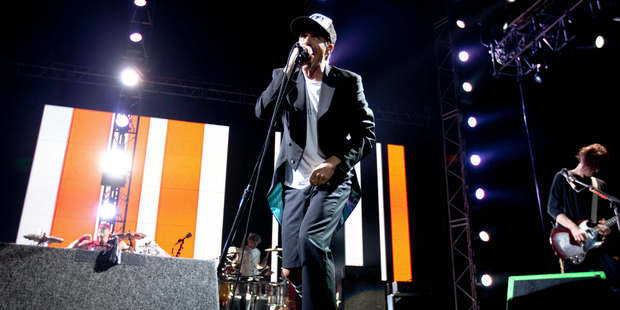 As two of the world's most energetic 50-year-olds, Red Hot Chili Peppers' front man Anthony Kiedis and bass player Flea are still able to bounce around the stage with their tops off. Kiedis is there limbering up like a funky boxer as he tells us all to "suck my kiss", and Flea brandishes his bass as he bounds around in between doing odd yoga poses and hand stands.
The two main Chili Peppers' energy is a welcome surprise, because let's face it, in recent years the Los Angeles rock funketeers have come across a little half-hearted both on record and on stage (their last Vector show in 2007 was a mix of thrilling and complacent).
The absence of on-again, off-again Chilis guitarist John Frusciante's unique licks and frills was a major reason latest album I'm With You was weak and lifeless - and previous album Stadium Arcadium was sprawling and unwieldly.
But tonight the new songs, like the gallop and grandeur of Monarchy of Roses and the funk rock whimsy of The Adventures of Rain Dance Maggie, both get a badly needed injection of old-school Chili Peppers' beef and punch.
And new guitarist Josh Klinghoffer proves himself more than a match for Frusciante as he weaves his way through the songs while flailing wildly in circles.
Earlier, Texan guitar hero Gary Clark Jr. dished up some mangled psychedelic blues rock of his own before a jarring change of pace when Los Angeles hardore supergroup Off! - fronted by former Black Flag and Circle Jerks singer Keith Morris who's a good mate of Flea and Kiedis - let rip with a shouty and deliciously divisive onslaught.
Of course, the Chilis' enduring pulling power - this sold-out show is the first of two nights at Vector - and status as one of the world's biggest rock bands come down to their old songs from Californication and, best of all, 1991's Blood Sugar Sex Magik (from back in the day when they used to play near naked).
Scar Tissue, Californication, and Under the Bridge are beautiful tonight (with the latter inspiring an all-standing, mass sing-a-long), then there's the loopy dynamic bedlam of By the Way, and the chest-beating power of encore Give It Away still sounds potent 22 years on.
But the Chilis aren't the band they used to be, and sadly, while the band's energy and enthusiasm are still there, Kiedis's voice only just goes the distance. It's lucky Flea and Klinghoffer are kings of the between-song jam, which gives him time to drink magic potions to soothe his throat. Still, even though his vocal worries left him in a bit of a funk, at least the band left the crowd on higher ground.