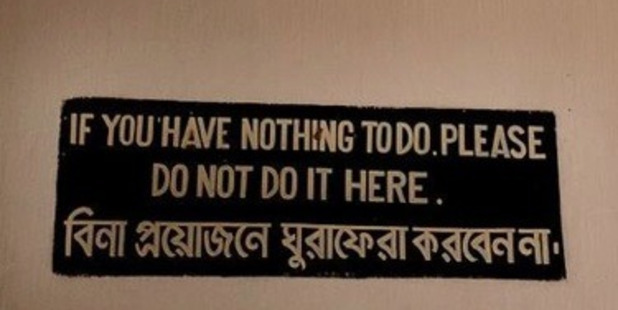 Miracle in the make-up bag
Anna writes: "After truly believing my special necklace (aptly a silver anchor) had plopped into the water at Te Kouma Wharf in Coromandel while bait-fishing, my chivalrous boyfriend Nick went back at low tide, with my 4-year-old's diving mask and floated around in the stinky water amongst the fish carcasses looking for my necklace - much to the amusement of the mussel barge workers who had just docked at the wharf. Not perturbed by the huge local stingray, which swooped in for a closer look, he continued. An onlooker went up to her nearby bach to get a proper mask and snorkel and came back with her three teenage boys - one even joined in the search. Unfortunately, the necklace was not found, but miraculously turned up in my make-up bag this morning."

Flushing out the artists
Austrian artist Alexander Riegler installed a one-way mirror in the ladies' room at a cafe in Vienna to allow men's room users to peer inside (in the name of "art").
Riegler said he wanted to start a "discussion of voyeurism and surveillance". Men could see only the faces of women standing at the lavatories, and he said then that in January, he would reverse the process and allow women to peer into the men's rooms. (The cafe had posted a sign advising restroom users that they would be part of an "art" project.) (Source: News of the Weird)

Useful information ...
Did you know ...
1. It would have taken 2.5 million seagulls to lift James' giant peach into the air, not the 501 that Roald Dahl suggested.
2. As part of a sustainability initiative a local government official in the Netherlands suggested constituents take a leaf out of his book and is recommending people save money and water by peeing in the shower.
3. The updated version of the famous dating guide, The New Rules, says, "Wait at least four hours to answer a text. That's the MINIMUM. The older you are, the longer you should wait."And for Facebook? "Never send a friend request to a man you like." Okay then.

Let's smash 'grab'
Renton writes: "When I was growing up in the 1950s and 60s 'grab', while not deemed a rude word, was certainly considered to be a rude action. Grabbing and snatching were strongly discouraged and would often be punished by a quick flick to the hand and/or a withering look. But 'grab' is now so overused; if you listen for it it's everywhere - Grab-A-Seat, grab your coat/hat/bag, I'll just grab that for you, grab a bite to eat, grab your attention, 'grab' on radio, 'grab' on television ... grab, grab, grab!"

Awkward Family photos:
1) The Dad look a bit wooden...
2) I have a photo of myself just like this...Bowl cut, hefty and pre-menstrual...
3) In the er, birthing pool...(I am too stunned to make a crack about this one)

Video: US talk show host Jimmy Kimmel has compiled a brand new clip of celebrities reading mean tweets about themselves. Jessica Biel is funny...(NSFW language)
(Here's part one and part two, if you missed them)

Video: You are supercool...

Got a Sideswipe? Send your pictures, links and anecdotes to Ana