New Zealand loses out on dream marketing opportunity by letting the Aussies run the first big fireworks show of every year.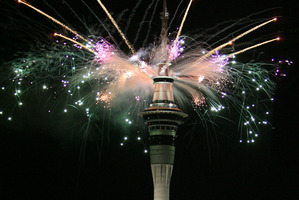 Come on Auckland we can do better than this.
The city was packed on New Year's eve to witness the fireworks display from the top of the Sky Tower, which looked like a giant sparkler and was much as it has been at the beginning of every year for a decade or more.
It was pretty enough in its own way but forgettable and hardly something that could be described as world class.
The point was highlighted again and again over the succeeding 24 hours as one city after another vied to produce the most exciting pyrotechnic effects to ring out the old year and ring in the new: Sydney, Hong Kong, London, Moscow, New York all made their mark on the night sky in style.
They do it partly to entertain their citizens and encourage a sense of optimism, but also to advertise themselves to the world.
No city knows the importance of this more than Sydney, which uses the natural advantages of its great harbour to telling effect.
It knows the world is watching and waiting for it to launch celebrations with the first great fireworks display of every year.
And just to make sure no one forgets, it runs a well-organised media campaign in the last days of the old year to remind the world that Sydney is where it all begins. On Monday night, it served an appetiser just for the children. Even that was more spectacular than Auckland's giant sparkler.
What ought to be obvious to Auckland's civic leaders is that Sydney is stealing our thunder. We are a full two hours ahead of it, and it should be Auckland that is recognised globally as the place where every new year begins.
Sydney gets away with it only because Auckland has effectively conceded the field to the Aussies, which is about as un-New Zealand as it is possible to be.
Of course some might say that such spectacular fireworks displays are really trivial and, when there are so many urgent problems facing us, an unjustifiable waste of money. But Sydney and the other great cities put on a show for a reason, which is not unlike the justification cited in this country for giving tax breaks to movies such as The Hobbit; there is a real benefit in raising global awareness of New Zealand, which, among other things, encourages tourism.
Once a year, Auckland has a unique opportunity to create the same effect with a truly spectacular fireworks display. Our natural and constructed advantages are the equal of Sydney if not better.
We, too, have a great harbour. We, too, have a harbour bridge. And we have many vantage points around the waterfront where hundreds of thousands of people get uninterrupted views.
But the greatest advantage of all is timing and it's something that cannot be taken away. Auckland hits the new year first and so ought to claim its rightful status as the city where the new year begins.
There is no need to be overawed by the fantastic displays of other cities around the world. Auckland has done it before.
Remember the great effort on the night the Rugby World Cup opened in 2011? So come on Auckland, we can do better than this. Let's put ourselves on the map and have some fun doing it.