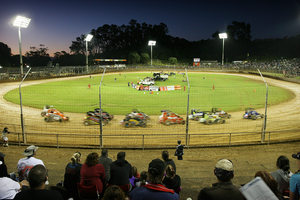 As a lifelong cricket fan trapped in a city without a suitable test venue it is not easy to admit this - but Western Springs should stay exactly as it is.
The sport needs a home and because Auckland Cricket thinks the world and Eden Park owe it a living - by law the latter actually does owe it a living, sort of - it is going to need some serious inducements to move.
The fact that cricket and Auckland are going to be embarrassed in front of a global audience in March, when England play a test in the concrete cavern that is Eden Park No1, should be motivation enough to move. The ground was recently rated fifth-worst in the world after a survey carried out by the Cricketer magazine - and that was before alignment changes have created a situation where snicks through the slips will carry for six.
But cricket bosses will convince themselves that having a few Barmy Army militia scattered around 40,000 or so seats will be a good ad for the sport because at least they can wine and dine their corporate partners without having to worry about tent doors flapping in the wind.
The ideal option would be a central city venue, somewhere that would attract midweek walk-up crowds and give tourism chiefs, in tandem with the broadcasters, the opportunity to promote the city's pleasing skyline and stunning harbour, but that would require a bit of can-do Auckland spirit ... so we can rule that out.
Instead we're told the most convenient option is relocating cricket to the Springs and moving speedway to the industrial wasteland otherwise known as Mt Smart Stadium.
Until two days ago, this seemed like a passable compromise. Then a fella by the name of Michael Pickens was interviewed on the wireless about the midget racing series taking place at the Springs over the holidays.
He's a driver and that, I confess, is the sum total of my knowledge of midget cars, midget car racing or midget car drivers. Should Mastermind producers come knocking, I'd be more comfortable choosing the Ecumenical Patriarch of Constantinople as my specialist topic than I would speedway.
But I know for a fact, after listening to Pickens, that speedway fans and participants deserve a heck of a lot better than being punted into an unloved corner of Auckland to accommodate cricket.
Frankly, cricket's bumbling administration does not deserve the beautiful natural amphitheatre that Pickens described as the best circuit "in the whole entire world" (tautology can be excused when it's delivered with such passion). Overseas drivers, he said, keep coming back to the place and first-time drivers are left slack-jawed by the venue's atmosphere. And we'd give that up for what exactly? A sport that has waved goodbye to paying customers in droves over recent years?
No doubt the proximity to the Mr and Mrs Well-Heeled of Grey Lynn and Westmere will be used as an excuse, but it is impossible to muster much sympathy for the residents. Common sense suggests that part of due diligence when making a purchase as tethering as a house is to work out potential annoyances. That big, round dirt thing surrounded by bleachers was hardly hiding when you tied yourself to a 25-year mortgage.
Yes, cricket needs a new home alright, but they can keep their hands off the Springs - speedway's doing quite nicely there, thanks.