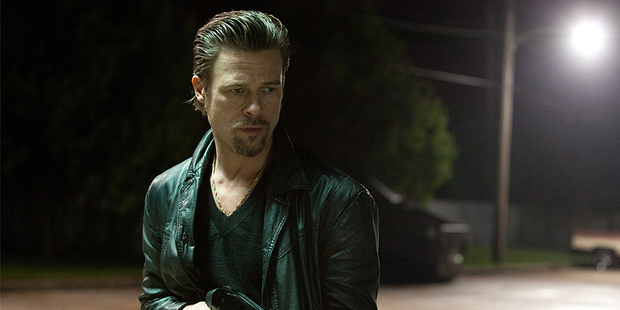 Despite TV shows getting most of the critical kudos these days, it's been a pretty great year for movies. Whittling down my favourites has been an arduous task, but allow me to share with you my picks for the top five movies released in New Zealand cinemas in 2012.
5.Prometheus
Ridley Scott's Alien prequel of sorts got a wildly mixed response upon its release, with many people unable to look past the multiple plot holes and confusing connections to existing Alien mythology. I freaking loved it though.
The plot holes were just as apparent to me, but the cool aspects of the film simply superceded them in my eyes. I felt a sense of wonder while watching Prometheus that I haven't experienced since District 9. Wonder is far too rare in movies this days, and Prometheus was spilling over with it. Plot holes or not.
4. Argo
Ben Affleck's widely lauded true-life tale is a masterclass in both tension-building and '70s facial hair reconstruction. Challenges to the film's veracity don't take away from the contemporary relevance of the story, and its metaphorical impact (America's saving grace = movies?) carries significant weight.
Heading into Oscar season, Argo feels like the front-runner, and deservedly so. It's an "all-rounder" - a critically acclaimed prestige picture with wide entertainment appeal.
3. Searching for Sugar Man
Like Argo, some questions have been raised about this documentary's commitment to the objective truth. But also like Argo, it doesn't detract from the experience of watching the film, which is a joyous ode to one man's humble spirt and the uplifting power of fandom.
Rodriguez, the folk singer the film is focused upon, is an instantly iconic movie subject whose understated grace elevates Searching For Sugar Man. I can't remember the last time I walked out of a movie with such a big smile on my face.
2. Young Adult
Released in NZ early this year and part of the last Oscar season (it didn't win any), this underrated dramedy is one of the most penetrating and authentic character studies to have come out of mainstream Hollywood in years.
Charlize Theron (robbed!) gives a career-best performance as an often unlikeable writer who returns to her hometown loaded up with big city arrogance. I wish more films were as dedicated to presenting a lead character with genuine flaws. Theron's Mavis was often reprehensible, but the film's commitment to her point of view meant you were always right there with her. They really just don't make 'em like this anymore.
1. Killing Them Softly
It was just so darn cool. Andrew Dominik's follow-up to The Assassination of Jesse James By The Coward Robert Ford has failed to make many in-roads at the box office, but we all know that's no indicator of quality. From the amazing supporting performances by Ben Mendlesohn and James Gandolfini, to the authentically scuzzy locations, Killing Them Softly is a hugely entertaining throwback to 70s style crime dramas.
The metaphorical underpinnings seemed to turn a lot of people off, but I loved that aspect of the movie. Dominik's aesthetic leanings seem to come from another time, and it makes for some pretty great movies.

So yeah. That's my top five.
My next five favourite movies of the year are: The Raid; The Avengers; We Need To Talk About Kevin; Your Sister's Sister and Safety Not Guaranteed.
If The Cabin In The Woods had played outside the film festival, that would've been my number one, but I've restricted myself to movies that got a general release in New Zealand theatres this year.
Worst movie of the year is a toss up between Project X and Alex Cross.
Thanks for reading and commenting on the blog this year! See you in 2013!
What were your favourite movies of the year? Comment below!