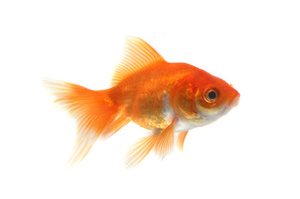 On the downtown Four Express train during Thursday morning rush-hour, a young man in neat business garb considered himself lucky to find a seat.
It was the 7.30am business crowd: coats and scarves, cases and sharp shoes.
Some women wore heels and most men wore ties. Pole-clutchers stood chest-to-chest, absorbing every bump and brake of the machine.
The young man had tidy black hair and a business shirt but no jacket.
He carried a fabric bag with his work bits and pieces and would have fit perfectly among those around him, but for the company he kept.
On the man's lap, nursed gently above his knees and riding the downtown morning express, was a goldfish.
Er, correction: "Finando" was no mere goldfish.
With his reddish hues and dazzling fins, he was apparently the finest Siamese fighting fish $8.50 could buy: the perfect impulse purchase for a pet store romantic too measured and sensible for a puppy.
The man and his slopping fish bowl could've been Bret or Jemaine.
You see some things on the New York City subway. People fight. People cry. People pick up dates.
Early one Monday, I was startled from a slumber by a four-piece Mexican mariachi band, fully costumed and conspicuous as could be, blasting a rousing cover of La Cucaracha to the very much reluctant red-eyed masses.
But a Siamese fighting fish was a first.
Finando, the man told me, was his only fish and house mate and, by fish standards, not particularly well travelled.
That is to say that, before his express train excursion, Finando had never experienced New York's public transport. The young man had been out of town for a couple of weeks and was collecting Finando from a friend who had fish-sat.
"Chic," said the man, when I asked about the bowl's only feature, a small plastic house sitting among a few stones.
"I suppose the facade is a little post-modern, but I was after a minimalist motif."
"It's a good day to take your fish for a walk!" laughed an old man, in a volume suggestive of hearing loss.
People turned and smiled and the young man meekly blushed. He fretted about all the things that could possibly go wrong.
There is, after all, only so much water one can remove from a goldfish bowl without rendering it useless for the purpose it was intended. And though Finando's water level had been dramatically reduced, New York subway drivers have a habit of speeding between stations when demand is at its greatest. Balancing a fishbowl on the lurching Four Express was like four-wheel driving with a saucepan of coffee.
It was bound to happen before too long - a Hollywood inevitability - and just south of 59th St came the innocent elbow bump.
A direct arm-to-arm knock from a man consumed by a newspaper immediately threatened to soak several commuters' pants legs and send Finando to a most undignified end.
The tide surged. The water sloshed. The post-modern facade wobbled and spun.
But, at Grand Central Station, the young man stood up with his fish still bobbing in-bowl.
"It's the silly season!" he said, stepping on to the platform.
"Even goldfish go home for Christmas."