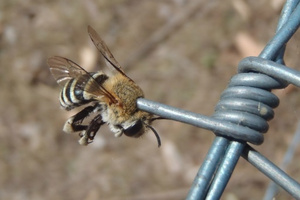 "David's brother Trev is in Queensland and came across this extraordinary sight and in an email home said: "... going through a barbed wire fence in Oz, found this bee who must have been day dreaming on its way home ..." he wrote.
At least it wasn't a $2 coin
Doctors have discovered a baby tooth lodged inside an 8-year-old boy's ear three years after he placed it under his pillow for the tooth fairy. According to the British Medical Journal, the boy had woken up upset one night three years ago claiming the tooth fairy had put a tooth in his left ear. His parents assumed he just had a bad dream and put him back to bed. The case perplexed a number of doctors until a CT scan identified the baby tooth.
Avoid the pre-Christmas traffic, take a ... Mummobile
Cynthia writes: "My daughter, attending a social event in the CBD last night, said: 'Don't worry about picking me up, I'll get a train to New Lynn just before 9pm and then get the bus [that comes within 200m of home].
That way you don't need to come all the way into town in the pre-Christmas traffic.' She boards a train at Britomart at 8.45pm - it's scheduled to leave at 8.53pm and due at the New Lynn hub at 9.25pm. It finally leaves almost half an hour late (updates are not clear about the delay, so rather than leaving the pre-paid train to look for a bus, she waits expectantly). This train is obviously not going to connect with the bus and it will be dark when it finally arrives at 9.50pm. There are no taxis waiting outside the transport centre either - because the train is not on schedule. Just as well Mum didn't have more than one wine."
When you're NOT paying an arm and a leg
There is such a thing as a free (nearly) lamb ... A reader writes: "My wife went shopping and bought a leg of lamb (among other items). It was only when she got home and checked the till slip that she realised she had purchased a lovely leg of lamb with a price tag for 42 cents."
Don't roll over Rover
Last word: Derek writes: "For the past few years my dog has just wanted a ham bone for Christmas. Now, after watching Campbell Live, he wants a BMW Mini.
Crafty: Worse than those driftwood creations with personified peanuts glued on it... Custom wooden carving portraits
Picture this: Parodying the clichéd Christmas knitwear with something rude...
Quick clip: This guy's Kung Fu styles will impress...
Video: Incredible footage of an giant eagle swooping down and picking up a toddler in its claws, but dropping him/her... (Keep watching for the slo-mo). Seriously, feeling a little sick about what I just saw (OMG!) but that's because I have one of those (toddlers, not Montreal Eagles)