All Blacks wouldn't hang senior player out to dry as PR exercise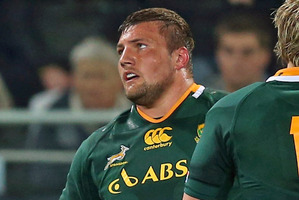 In the nick of time the unspeakable Andrew Hore owned up and said sorry, enabling New Zealand rugby, indeed the nation as a whole, to emerge from this shameful episode with its reputation battered, tattered but more or less intact.
It was a narrow squeak though. For a few days there, the eyes of the world were upon us, and they didn't like what they saw.
How do we know this? Well, Mark Reason, the transplanted Englishman who deplores some aspect of New Zealand sport, if not society, on a weekly basis for the benefit of Fairfax readers, told us so. "The world," he said, was waiting for the All Blacks to apologise for Hore's poleaxing of Welsh lock Bradley Davies.
Reason trawled all the way back to Cyril Brownlie's sending off at Twickenham in 1925 to support his contention that New Zealand rugby's refusal to condemn and apologise for the All Blacks' frequent acts of thuggery "galls the rest of the world".
Interestingly, he produced just one example of the rest of the world doing it any differently when the boot was on the other foot: earlier this year Springbok coach Heyneke Meyer immediately branded Dean Greyling's flying elbow jolt on Richie McCaw "unacceptable" and offered an apology.
Without wanting to suggest that Meyer was insincere or that his comments didn't reflect his attitude to foul play, I would argue that from a management perspective there's a big difference between the two incidents: there was more to gain and less to lose by publicly criticising Greyling than by defending him; with Hore, the situation was reversed.
Greyling is at best a fringe Springbok. He has three caps. He's a penalty magnet. Despite being big enough to need a hotel lift to himself, he scrums below his weight. And despite being banned for just one match, he hasn't been seen in Springbok colours since.
Hore has been an All Black since 2002. He's part of the All Blacks leadership group and, according to some reports, McCaw's closest lieutenant. He might be 34 but gives every indication of wanting to carry on through to 2015. Given his recent form you wouldn't bet against him emulating Brad Thorn, another craggy son of Otago, by fronting up at a World Cup closer to 40 than 30.
I didn't expect there to be any apology or condemnation of Hore from the All Blacks before his appearance at the disciplinary hearing. I assumed his coach and captain would take the view that by putting his body on the line in 74 tests, Hore had earned the right not to be hung out to dry. I further assumed the team leadership would operate on the basis that Hore's teammates would be outraged if he was hung out to dry.
I appreciate some people might think this amounts to a mindset of All Blacks, right or wrong. I also appreciate that some Kiwi rugby fans might despair at what they see as the All Blacks making a bad situation worse for want of a conciliatory public relations gesture. But teams are built on loyalty. The mantra "the team comes first" means exactly that. It means that in situations like this the leadership puts a far higher priority on the preservation of the bonds that hold the team together than conciliatory public relations gestures.
It most certainly means you don't publicly isolate one of your own to please those who don't want the team to succeed and, in some cases, actively resent its success.
As Hore admitted, his action was unacceptable on a number of levels, and it wouldn't have bothered me if he'd been banned for longer. However, as always, the most irksome aspect of the whole business is the ludicrous and offensive extrapolation from a heat of the moment incident (and its aftermath) in a violent, high stakes sporting contest.
Thus because Hore promptly apologised to Davies privately, rather than publicly, because the All Blacks gave him a bollocking behind closed doors and put process before PR, Reason wonders "if New Zealand rugby will ever learn how decent society behaves". His claim that "many good men and women in this country are ashamed" implies that New Zealanders who don't happen to see it his way are somehow morally defective.
In 2005, Brian O'Driscoll's dislocated shoulder generated a sewage pond of this sort of stuff from Reason's former colleagues in the British media, including analogies with Japan's failure to apologise for war crimes and quasi-racist garbage about what a dour, uncultured, widely despised lot we are.
Then as now, the irony is that those who accuse us of being so blinkered and provincial that it deprives us of our moral compass are the ones who are lacking any sense of proportion.