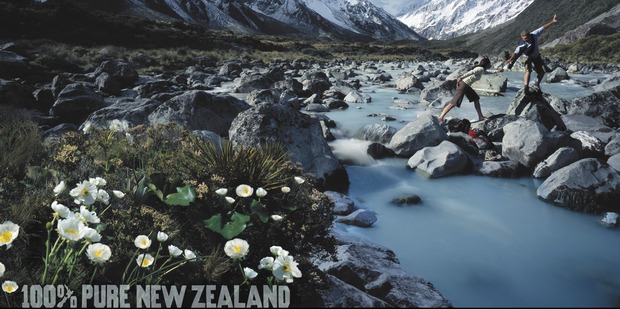 100% GRUMPY
The Insider hears that plenty of tourism industry folk are upset that the "100% Pure" slogan has become a front-line issue in the tension between economic development and the environment. With many other industries, particularly agriculture, having a more significant effect on the environment while piggy-backing on tourism's slogan, one sector boss says it feels as though tourism is taking the hits.
READY TO SPLIT
Ministers may not yet have decided whether to set up a standalone health and safety unit after the royal commission of inquiry into the Pike River disaster, but preparations are being made just in case. Ministry of Business, Innovation and Employment boss David Smol, who inherited the Labour Department's health and safety responsibilities, has told the relevant staff they are being moved into the old Defence Department headquarters in Stout St. The apparent internal demerger comes at some cost following on from the cost of the recent mergers. At least Smol has an eye to controlling one aspect of the costs - he has told staff there is to be no spending on new stationery until all the old stocks have been used.
WINSTON'S WINNER
Many people were running bets on which NZ First MP would be the first to have a political meltdown. Some had their money on Richard Prosser, or Andrew Williams - who in parliamentary debate this week compared the Local Government Act 2002 Amendment Bill to Communist-ruled East Germany. Instead it appears to be Brendan Horan, who has taken time off from Parliament to sort out claims about his family's finances. Party leader Winston Peters is, of course, a veteran of handling scandals of one sort and another.
GOT IT SORTED
Many in the business world think parts of the tax law are unfair, poorly written or being mis-interpreted. This is one reason millions of dollars are spent on lawyers, accountants and lobbyists. But some groups find it easier than others to get their views heard. A case in point is the Taxation (Livestock Valuation, Assets Expenditure, and Remedial Matters) Bill, which was quietly introduced into Parliament this week. Buried among the "remedial matters" is a "minor technical change" correcting an "unintended anomaly" following the rewrite of the Income Tax Act 1994. It reinstates a tax exemption for payments for travel, accommodation, attendance and communication services. Sadly, though, it is not for all taxpayers - it applies only to MPs. The bill says the change is needed to ensure that only the "private element of payments and services provided to members of Parliament is taxed. Without the change, the full amount of payments and services to MPs, to carry out their parliamentary duties, would be taxed". To make sure that the mistake MPs made in taxing all payments made to them is cleaned up, they are going to backdate it to 2005. Yesterday afternoon, when the bill was debated for the first time and sent to select committee, not one MP speaking chose to mention the bill's impact on their own affairs.
IT'S KRAP
A study on the safety of New Zealand's state highways has been burdened with a most unfortunate acronym: KiwiRAP - KRAP, for short. Is this a subtle comment on the robustness of the work, or just an official with a sense of humour?
BRISTLE TEST
Whatever happened to diplomatic immunity? Washington's affable man in New Zealand, ambassador David Huebner, reckons he gets chosen for extra security screening every time he leaves New Zealand. It must be the beard.
UNEXPOSED
Auckland's Northern Club still has a media ban, issued after an event and its MC brought the august institution into disrepute. The policy is loose; sometimes media can attend events as long as they don't mention the club, and sometimes "no media" means just that. The club also lets businesses use its facilities for launches, which can make things tricky for PR firms trying to get exposure for their clients. Last Monday, fine wine distributor Dahl and Nash pulled out the stops, inviting sommeliers, owners and managers of some of Auckland's finest restaurants to a luxurious master class and degustation meal. But at least one media representative was uninvited at the last minute. So much for PR exposure.
CYBER-SPREE
The rise of online shopping continues. On "cyber Monday" this week - a day when many retailers offered online specials - US consumers spent US$1.46 billion, up 17 per cent on the same day a year ago.