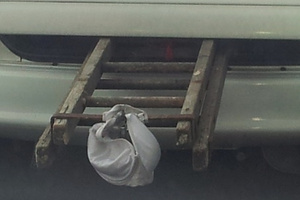 "In West Auckland if you don't have a white flag-like item to hang off your protruding ladder, just use your bra," says Michelle.
Simple, we love Americans
A question posted to Reddit.com asks "what life in New Zealand is like, or what it would be like for an American?" This was the most helpful answer: "We're a simple, rural and God-fearing folk. Since most of us work on farms with animals that have to be cared for every day, we don't really have the concept of a weekend in the same way you do in the US, but we of course observe the Sabbath on Sundays. We've got four different television channels we can watch in the evenings and each city has at least one pub (Auckland has FIVE!!) for entertainment. We're deeply loyal to crown, country and God so in most places you'll visit you'll see the daily assembly on the town green for the anthem, prayers and Queen's oath. For most of us family life is the most important aspect of our lives and we follow traditional God-fearing values of respect, compassion and hard work. We eschew consumerism and items like mobile phones, DVD, big TV's etc are rare. Americans are always popular because your smartphones are really amazing." (Source: Reddit.com)
Tui that thinks it's a washing machine
"I live in Bucklands Beach and have five other properties bordering mine. A few years ago we too had a tui, only this one had learned the sound of an off-balance washing machine. We were all a bit fitter for the runs to the laundry to check the washing machine that wasn't even on."
Tui with a phone button fixation
A reader writes: "Four of us work from a home office in Glendowie. While alone in the office one staffer thought he heard somebody using the phone. He was hearing the beeps made by the buttons on the phone when they are pushed. He raced around the office thinking that someone was here and shouldn't have been. The local tui who sits in the tree opposite the office was mimicking the sounds that he hears every day when we all use the phones."
Two tui, both in reverse
"The tui nesting in Maungawhau Rd, Newmarket, can only confirm the sad fact that (urban) tui birds can't sing," writes Francois. "They sound more like a pair of second-hand Japanese import vans racing each other in reverse gear, than the heavenly feathered musicians I was listening to in my childhood. The loud beeps start at dawn and don't abate until well into the evening. The three short whistles, followed by a long one, all repeated continuously at intervals of 10 seconds, can slowly drive any stay-at-home unemployed resident insane." Francois' solution was to get a job.
Ah, it's a territory thing
"The Karaka St, Takapuna residents have been blessed with nesting tui," explains another reader. "That repetitive noise is their territory call. They are warning off prospective tui settlers. The call will stop as the fledglings mature ..."
Oddball: I never knew there were so many websites with no purpose or function and The Useless Web.com has 'em all...(It's like the lucky dip of the internet i.e. mostly crap)
Picture this: Scheming boxes...
Local: Gin Wigmore makes an impressive American TV debut performing on Jay Leno this week...
Video: US telly news reporter Gustavo Almodovar has a ripper signature sign-off, made even more absurd on high rotate ...
Got a Sideswipe? Send your pictures, links and anecdotes to Ana at ana.samways@nzherald.co.nz