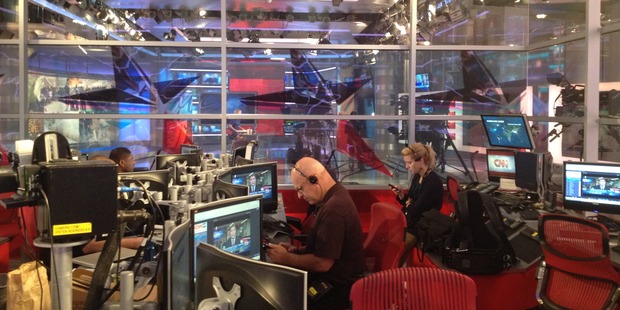 They said it would be the storm of a lifetime - and it was. Epic and historic, Superstorm Sandy did exactly as the computer models predicted - in fact a little worse. The storm is smashing records, I won't list them all as many won't have relevance in New Zealand, but air pressure-wise, storm surge-wise, wave-wise and snow-wise this was a record breaker.
As some of you know I was at CNN's main headquarters in Atlanta yesterday as Sandy hit. The meeting was organised months ago as WeatherWatch.co.nz has built up a very close relationship with their American and International weather teams. In part because MetService won't work with us or share data but also because in this close global world connections matter. Last year I provided CNN with several global interviews and WW readers would also know we frequently promote CNN coverage and stories.
The meeting was pretty much cancelled - but instead I got to watch CNN cover what may well be the most expensive natural disaster in US history.
Here in Atlanta it's cold, cloudy and windy. When I first arrived at the CNN Centre yesterday the first thing the meteorologist said to me was "I've never walked to work to cover a hurricane wearing a winter coat". The 'feels like' temperature was around zero degrees here yesterday morning, normally with a hurricane you'd be smothered by rich tropical air bringing sticky heat and humidity. But this was no ordinary hurricane.
Reporters up and down the east coast say they have never covered a hurricane while freezing cold. Snow continues to fall today - and it's heavy - up in the ranges.
Unlike Hurricane Katrina, which was really a manmade disaster due to building a city at the mouth of one of the largest rivers on earth and then putting it below sea level, New York was simply inundated by a rare storm. The local geography certainly added to it, but New York isn't prone to this type of flooding.
We may never see anything like it again hitting so many people (60 million people were in its path).
History is currently being written. The strong city of New York is no stranger to disasters and those tough New Yorkers will do what they did 11 years ago in September - band together, show compassion and love, but also resilience. The city that never sleeps didn't sleep last night and despite no subway, no power, no service, I guarantee the city won't sleep tonight either.
American Media & Politics
CNN and The Weather Channel (who run weather.com and where I'm going to today as they are also based here in Atlanta) have been running wall-to-wall Sandy coverage for two days. Fox News on the other hand managed to pepper their coverage with right wing leaning digs at President Obama, suggesting he and the White House were "scrambling" to cover this, leaving the impression that perhaps they were caught off guard. This couldn't be further from the case. President Obama said before Sandy even hit that he would be in Washington and that "red tape would be cut through" to ensure an immediate response to the disaster.
To back up my support of the President's handling of Sandy so far, extremely outspoken Republican Chris Christie - the Governor of New Jersey and also a vocal supporter of Mitt Romney - surprised many overnight by continually praising the President for his efforts, says Politico. Christie has always been one to be straight up and honest. He's a controversial figure that even avoids Fox News despite their gushing love for him. His distance from the right wing leaning pro-Romney news channel shows his moderate side and his support of President Obama shows, to me, he is preparing to run for President in 2016 on the Republican ticket. He may well have a lot of support.
Meanwhile, with Sandy more intense than predicted I think this may now have a bigger impact on the election. Yesterday in my Skype interview with nzherald.co.nz I said that the storm would likely freeze momentum for both candidates. I also said that if either presidential candidate made a gaffe it would unlikely get the media attention to change things before election day in 7 days time. However Sandy was stronger than predicted and damage will be greater in the nation's most powerful economic city.
While the majority of Americans just slightly support Romney more, nations rarely change governments during a crisis. However the shift may only be slight, as the areas worse hit by Sandy are mostly pro Obama states anyway. However the crucial state of Ohio - the state that will decide the presidency - is on the fringes of Sandy and has itself received severe weather. If those in Ohio feel happy with Obama's response to their state and their neighbouring states it will "lock in" his current lead there - possibly even giving President Obama a few more points. This will have Romney sweating more than he did in his final debate with Obama - as no Republican has ever won the White House without Ohio.