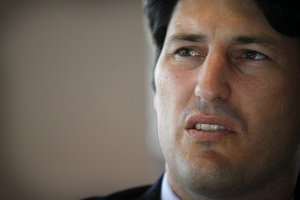 Certain songs go with certain celebrity athletes and that's all there is to it. Look at photos of the following with musical accompaniment and you might know what I mean.
John Eales, to begin with, is the human representation of Truly, Madly, Deeply by Savage Garden. The look, the style, the attitude - without John Eales, Truly, Madly, Deeply probably wouldn't exist. For this man will "be your love, be everything that you need" in his gentlemanly way.
And I'm positive he'd "want to stand with you on a mountain". He certainly gives it all for his country on the pitch without losing his head. A number-one good guy akin to the number-one hit.
George Gregan, on the other hand, is Queen's I Want it All. His surly, combative, take-no-prisoners need and greed for the ball and the right call meant that he indeed wanted it all and he wanted it now. A nice guy off the field, no doubt, highlighted by his giving Richie McCaw a bottle of Dom Perignon after we overcame Australia in last year's Rugby World Cup semifinal.
On the pitch, however, he was ruthless and unpleasant, just like the aforesaid discordant song and its subtext.
Ian Jones, moving across the Tasman, is Michael Buble's Just Haven't Met You Yet. The wavering mid-range voice of both men, TV presenter and singer, vindicates the comparison alone. Nevertheless, "Kamo" is the type of guy everyone's grandmother would want you to marry and Just Haven't Met You Yet has something about everyone's grandmother in it. Furthermore, the song bounces along with a toothy smile, as does Jones.
Andrew Mehrtens is Weezer's Buddy Holly, for many reasons. Firstly, Buddy Holly (man) was a very cool geek, as is our Merts. Secondly, there is such a cheeky irreverence about the song's words and tune that enlivens you like Merts would on the pitch and does, to this day, off it. There's a real jaunty intelligence cheekily chirping and chipping away at you from song and man.
Andrew Hore, to use a modern athlete, is definitely on the Highway to Hell with AC/DC. The song rolls, rocks, chortles and laughs in a carefree, bumptious and altogether humorous way, inasmuch as Hore does, the light-hearted daredevil that he is. Don't get me wrong - song and man are both tremendously tough campaigners, and both emanate from the late 1970s, so cross them at your peril.
However, if you get used to them and embrace them, your experiences will be a hell of a lot better. In fact, you may just burst your beer drum.
I can't explain it but there's something Grant Fox about Something About The Way You Look Tonight by Elton John. In an interview Foxy once basically said he cared little for music but given a choice would go for "easy-listening". Now, the aforementioned song is a quintessential easy-listener, as it was in 1980 or whenever it came out. Grant Fox looked the same in 1980 as he does today, so it's a great match. Moreover, there's something very matter-of-fact about Fox, as there is about all of Elton John's music. His is an annoying, cloying but highly accomplished music, is Elton's. Fox knows everything and is highly accomplished, so song and man are the same things or is the same thing, depending on how your grammar goes.
And finally, Zinzan Brooke is Take That's Back for Good, but only in the sense that the song is synonymous with his era and that we as a country want him back for good, as a living, breathing New Zealander.
Happy listening.