Council needs to drive hard bargains with suppliers to make savings.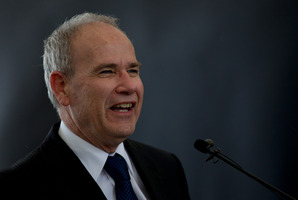 If Mayor Len Brown can keep the Auckland Council's rates to a rise not much above 2 per cent next year he will be doing well. It will be election year so the budget will need to be critically scrutinised for expenses that are simply postponed to the following year, but those would be hard to hide. On this year's performance the mayor's cheese-paring promise deserves to be taken seriously.
Rates rose 3.9 per cent last year, the single council's first year, and 3.6 per cent this year. The last figure, of course, was an average. The rebalancing of rates charged by the previous councils and a new uniform charge for water and wastewater meant households in different districts faced variable increases. But protests came mainly from those who had made improvements to their homes and were not prepared for the rating implications.
This year the council's work schedule pointed to a rate increase above 5 per cent but the mayor thought he could bring it down without big cuts anywhere.
Suggestions that savings would be found by doing away with libraries at Grey Lynn and Snells Beach have not happened. The most painful of the mayor's projected cuts is the loss of berm mowing services in the former Auckland City Council area. Any complaints from those residents will find little sympathy from other parts of the city where householders have never expected a council to tend their berm.
To reduce the projected rise from 5 per cent to nearer 2 per cent, as Mr Brown hopes, would be a notable achievement. But it is one that should be demanded when annual inflation is under 1 per cent at the latest reading. It is a pity to hear the council's chief finance officer Andrew McKenzie recite the old canard that general inflation is not measure of a council's performance because local bodies face a different mix of inputs. Every industry faces a different set of costs.
Local government has been an inflationary force in this country ever since the rest of the economy was reformed to face global exposure. Costs in the private sector have been disciplined by competition while central government reduced tax rates and ran budget surpluses for 15 years until the 2008 slump.
There has never been an excuse for local bodies to drag the chain. It happened because suppliers know they can charge councils what they like, there is little political pressure on managers to drive hard bargains or to make do with fewer staff. It is simply a culture of public money.
Now, with the consumers price index at 0.8 per cent for the year at the end of September, Auckland's 3.6 per cent rate is a major contributor. But Auckland's rate is low beside Wellington and Dunedin's 4.9 per cent. Christchurch, at 7.8 per cent, obviously has unusual needs at present.
The Auckland Council's job is probably harder because so much cost has been put under the control of arm's-length organisations. It is encouraging that one of them, Auckland Tourism, Events and Economic Development, has announced the closure of five information sites, at Orewa, Takapuna, Kumeu, Pukekohe and Bombay, that were not paying off.
The council has to find $250 million in savings to get next year's increase down to 2 per cent. The mayor talks of "deferring" some capital items but his team should regard the savings not as an election year discipline but a permanent one. His "liveable" city needs a continuous effort to minimise staff, drive hard bargains with suppliers and squeeze the operation for efficiency. A rate rise no worse than inflation would be a good start.