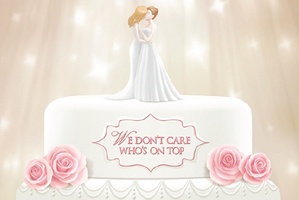 Jim Hopkins usually manages to both amuse and inform me with his erudite articles but his latest on the churches and marriage is a sad muddle of prejudice and misinformation.
Firstly, St Matthews-in-the-City does not speak for the Anglican community and is generally regarded by us as a maverick and an embarrassment. The bishops of Auckland have recently spoken against St Matthew's muddled slogan about who should be 'on top' observing that the Anglican church is opposed to all kinds of exploitative relationships.
But it is on marriage, the church and the state that Hopkins is seriously confused. He seems to think that the church has been in a position until very recently to dictate the terms of marriage to the state and needs to reclaim that role if it is to be true to itself. Marriage policies and laws have been the concern of the state since at least Roman times and most legislatures whether asian, middle-eastern ,western european or even celtic have set policies for the enactment of and exiting from marriage including the property rights of the parties.
Certainly in the high Christian period in Europe from about 500 to 1800AD whatever church was dominant frequently acted as both the partner and the servant of the state and used that relationship to foster Judeo-Christian policies in marriage and family life. In the last two centuries that has changed greatly.
Parliaments have increasingly set the rules according to the demands of the electorate; churches have often argued against such changes (sometimes mistakenly; sometimes rightly) but democracy has ruled and the churches have had to live with it.
Particularly out in the former British colonies, the special church-state relationship the Church of England carries in England has not applied. Here the state sets the marriage rules; it authorises ministers of many faiths to conduct marriages on behalf of the state in a religious setting that accords with their particular faith, but in fact two things are happening at the same time: the minister functions as a registrar of marriage for the state and as a minister of their faith community to convey a religious blessing.
People can choose, and many do, to have no religious ceremony at all. So it has been for some generations now.
Christians will continue to hold their view of marriage as a God-designed and God-blessed relationship which they will work to maintain. But we cannot not expect a secular state to enshrine all our convictions in the country's laws. Christian monopoly of peoples' behaviours withered some generations ago in some cases, much to our social detriment. And sometimes to our social betterment.
Closer church-state consultation as suggested by Hopkins could be welcomed by many Christians but would almost certainly be attacked by others. It is Hopkin's generation that has driven the churches to the margins of policy-making and law-formation. It's a bit rich to be suggesting we claim it back now.
* The Rev Dr Don Battley is a retired former Archdeacon of the Diocese of Auckland.