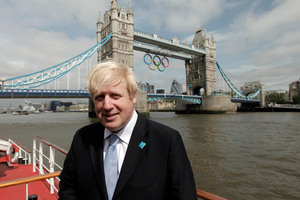 When transport chiefs and even the mayor warned the public against travelling into the middle of London, they probably had no idea just how many people would listen.
Listen to some shopkeepers and you'd swear the West End had turned into Tombstone, Arizona, and the Clantons had just ridden into town scaring the law-abiding folk into their homes.
Retailers and restaurateurs have been left counting the costs, with a research company stating that footfall had dropped 12 per cent against the same time last year. Some of London's tourist spots are reporting a drop of 35 per cent in visitor numbers.
There's meant to be a million extra people in London for the Olympics. So where are they?
A trip to Fleet St's magnificent drinkery, Ye Olde Cheshire and Cheese, would normally result in pleasant ale in convivial surrounds. The other night it housed a small table of weary New Zealanders and a couple of idle bar staff.
Mayor Boris Johnson's voice would boom from tannoys at every railway station you passed through in the lead-up to the Games, with London's idiosyncratic mayor warning of the "huge pressures" on the city's transport network and urging customers to stay outside the city centre.
That anti-advertisement has now been discontinued.
There might be other factors at play here. Many central hotels are pricey beyond the reach of all but official IOC delegations, so tourists are staying in the suburbs.
After an expensive day out at the Olympics, do they really want to go through the hassle of catching a train into town to spend more money when there are perfectly serviceable pubs and restaurants just around the corner from them?
Bloomsbury, home to dozens of cheaper hotels, seems to be buzzing every night. Likewise, the Westfield Mall in Stratford seems to be doing a brisk trade.
These Games are being staged in an epic global financial crisis. Boris can't be blamed if people are spending their discretionary income more discreetly, Olympics or not.