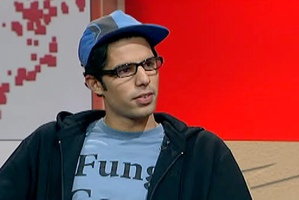 Remember 18-year-old Michael, the boy selling saucy pictures of his mum on Trade Me? It turned out to be his homework. "Michael" was a student who perpetrated the hoax as an exercise for a creative advertising class. The point was to see how easy it was to get high visibility in the media.
It wasn't just local journalists who were gulled - the story was picked up and reprinted around the world.
When the hoax was revealed, elements in the media turned on the kid for daring to expose a vital fact about journalism: every day your news is brought to you by people who have to hope that their sources are not pranksters out to get credits for their degrees.
He was practising an extreme version of what more respectable people in politics, business, and the law do all the time - manufacturing truth to suit their needs. Environmentalists and friends of the poor are equally capable of telling lies that will end up in print.
As for "avoiding telling the truth", a much more common method of misleading the media - it's more or less out in the open now that prevarications such as - "I don't think that's the issue, John. I can't recall that happening, Mark. I have no recollection of that, Duncan. I'm not aware of that, Patrick," are now generally accepted as code for: "If we keep going this next bit will be about as accurate as a sundial on a trip to the moon."
For anyone hell-bent on hoodwinking a hack, doing so would not be terribly difficult. An 18-year-old kid could do it. Media are daily beset by people who, if not out and out liars, at least demonstrate a cavalier disregard for the truth. Journalists can sniff out spin, double-check facts and go back to sources time and again, but in many cases they will ultimately have to rely on someone's word that they are telling the truth.
As for documentary proof - phony emails are easy to set up; CVs are faked; there's a whole category of crime about altering documents. Often, these are found out but, as with any crime, the most proficient examples will be so good no one will even know they occurred.
News media aren't exactly sinking under the weight of resources and annual budget increases from their proprietors. They don't have, as many people imagine, fact-checking departments or an array of other safety mechanisms on which to rely. Fewer people are producing more news in less time.
If someone wants to lie they will do so, and we are just lucky that it doesn't happen more often.
FROM MY under-reported news file comes this account of an authentic message that appeared on the Institute of Genomic Biology's Twitter feed some weeks ago. It read: "Hazardous materials released at Institute for Genomic Biology. Escape area if safe to do so. Otherwise seek shelter." It was an automated Tweet, sent by a computer that was programmed to transmit the message if something happened within the institute that suggested there might be a disaster taking place.
Horror movie aficionados will be pleased to know that in this case - for once - the message was not the first sign of a global bio-apocalyptic event. I think.