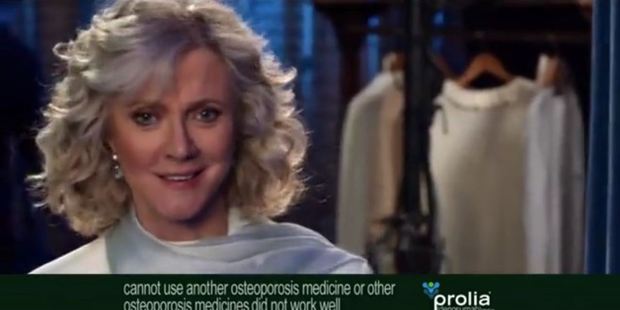 Blythe Danner's almost 70. You'd know her if you saw her. She has one of those mildly familiar faces that tend to pop up in movies and she's been acting in bits and pieces for decades. She's also Gwyneth Paltrow's mother. Chances are that if you watch TV in the United States you see her winning smile a couple of times a week.
"I have post-menopausal osteoporosis," grins Blythe, standing backstage in a theatre and looking thrilled with her diagnosis.
She's preparing for another night's performance; and heaven forbid anyone tells her to break a leg. But worry not for poor old Blythe. Relief comes in pharmaceutical form. The drug Prolia, Blythe tells us, has helped strengthen her bones and reduce her risk of fracture. "Break a leg," grins a middle-aged stage manager.
Blythe flicks him a flirty smile and heads for the bright lights. "Ask your doctor if Prolia is right for you," says her voiceover.
Drug advertisers in the US spend $5 billion a year in direct-to-consumer drug advertising. Media is awash with commercials - in the three and a half minutes between dances on Dancing With The Stars you can comfortably sort out your cholesterol and beat your depression and impotence - if you recommend to your doctor the brand you think is right for you. Experienced though the doctor is, Blythe Danner knows best.
Prescription drug advertising might seem a bit socially irresponsible if not for the lists of side-effects included in the commercials. Apparently though, drug giant GlaxoSmithKline was concerned that publicising the side-effects of a diabetes drug might impact on sales. It's not like heart failure's a major side-effect, anyway. So GlaxoSmithKline kindly neglected to tell anyone. They also neglected to mention that their antidepressant Paxil might lead to suicidal thoughts in young people and marketed the drug directly at US teenagers.
It's hardly the first time drug companies in the US have been cheeky in their ads. A commercial two years ago featured an endorsement from the inventor of the artificial heart, Dr Robert Jarvik.
"When diet and exercise aren't enough, adding Lipitor significantly lowers cholesterol," said Jarvik, before smoothly rowing across a pristine lake. Never mind that Dr Jarvik isn't a medical doctor, isn't qualified to write prescriptions, and can't row. If a stunt double can scull that smoothly then maybe Lipitor's right for me.
The last time I saw Blythe, her commercial was followed by another, for the nice people at 1800-BAD-DRUG. Apparently they'll help with legal action against drug companies that have misled consumers. After Paxil and Avandia, a third of GlaxoSmithKline's $4 billion fraud settlement will go to resolving civil cases.
Still, it won't change much in the world of 60-second slots. There are, after all, only two countries on Earth that allow direct-to-consumer media advertising of prescription medications: the United States and a little country in the South Pacific. I'd tell you it was New Zealand, but I'm worried that might give you a headache. What would Blythe recommend?