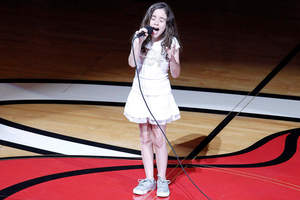 With nineteen million people watching her little frame, Julia Dale strode to the middle of the court and lifted the microphone gently to her lips. The house lights twinkled and dimmed, a single beam shone down from above and, as a nation's attention focused on a lone 11-year-old girl, she flashed a big toothy smile at the circling TV cameras.
Julia started low in her register. Gently keeping pace with a sweeping wave of her left hand, she closed her eyes and bathed in her moment with the charisma and confidence of a bona fide American diva. She could've been Whitney or Mariah or Beyonce.
She didn't rush. Her voice didn't waver. She certainly didn't let the occasion overwhelm.
As Julia Dale sang her nation's anthem and began the final match of the 2012 NBA basketball series, she luxuriated. Soaking in its pauses and attacking its peaks, she savoured the attention and power rarely afforded someone of her years. It was less recital than indulgence and Julia was brilliant.
The crowd roared.
For those without Julia Dale's evident talents, The Star Spangled Banner is a dog to try to sing. Its range is notorious; from the depths of lyrical troughs to lofty crescendos, the song stretches a full octave and a half. Hum the first notes of Somewhere Over The Rainbow - that's an octave.
To sing the US national anthem you need half that range again. Forget the mumbled pre-match effort of the All Blacks. At most professional sporting events in the US, the crowd and players don't even try to sing.
But oh, the respect. In a rare moment of reflective consideration, American sports fans stop talking. In a rarer moment of reflective consideration, they stop eating as well. Until the final bar is passed, nobody moves a muscle. It isn't just for the good performances either. The Star Spangled Banner is sung on all manner of public occasions, schooling, sporting and otherwise.
A few days after Julia Dale's magnificent effort, I stood among the masses at a cycling event in small-town Pennsylvania, where another young girl had the anthem honours.
Like Julia, she didn't rush, though I sort of wish she had. She didn't let the moment overwhelm, though as cruel as it sounds, I wish it did. She was brave, confident and plucky. She savoured the attention and power. And she was terrible.
It was shrill and piercing, flat one bar, sharp the next. Dogs freaked out. Glasses shattered and balloons burst. I flinched and worried my eye may have had a little spasm.
But I glanced at the park next door, where a group of men stood still, completely unfazed. They'd been playing baseball and, on hearing their anthem, had immediately paused and collectively turned.
They were outside the velodrome, independent of the cycling event and independent of the anthem performance. The light was fading, they couldn't see the singer, and it would've been more than a bit tempting to simply continue with their own thing.
But this was The Star Spangled Banner.
Each man removed his hat. Each man placed his right hand across his heart. And though they didn't dare sing, they most certainly knew all the words.
Which is probably more than we can say about ours.