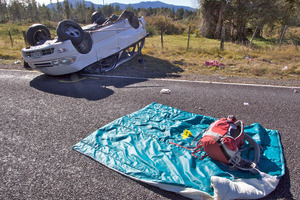 Anyone with an ounce of compassion would have to feel for 20-year-old Stephen Houseman. He's the young man from Boston University who was behind the wheel of a van carrying fellow students on an exchange programme.
They were intending to walk the Tongariro Crossing but shortly before they reached Turangi the van rolled.
Four of the passengers, who weren't wearing seatbelts, were thrown on to the road after the accident. Three of those young people died and one of them has many years of recovery ahead of her.
This week Houseman pleaded guilty to driving charges - careless driving causing death and careless driving causing injury - and was convicted and discharged, disqualified from driving for six months and ordered to pay $132 court costs.
Alhough I accept that an accident resulting in the loss of three lives, and the life of another being altered irrevocably, is a dreadful, terrible thing to have happen, surely this is one of the few instances where this crash was a genuine accident?
There was no speeding involved. No alcohol. No drugs. He wasn't texting; he wasn't changing radio stations; he wasn't lighting a cigarette; he wasn't trying to eat a hot pie. He had asked the students repeatedly to wear their safety belts.
This was no hoon.
Houseman simply came around a corner, drifted very slightly, over-corrected and hit gravel. His only faults, if faults they be, were that he was an inexperienced driver unused to driving the sort of people-mover they were in, and was unfamiliar with New Zealand roads.
Even the families of the victims understood it could have been any one of their kids behind the wheel. The parents of the most seriously injured of the young students, who took their daughter back to the United States this week, understood that no one was to blame. "This was an accident. Nobody was intentionally doing anything that would harm anyone," they said.
Does someone always have to be blamed? Do we always need to find a culprit or scapegoat?
The judge conceded that the carelessness was slight but the outcome was huge, and therefore a discharge without conviction was inappropriate. But this young man will live with the consequences of that ill-fated road trip for the rest of his life.
Could he not have been treated with compassion rather than put in the dock in a courtroom? Or does the death of three young people outweigh any mercy that could have been shown to him?