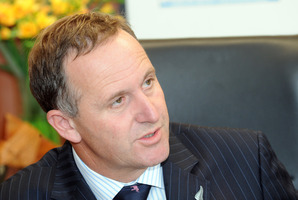 The Prime Minister went to some length this week to explain the Government's backdown on school class sizes. He said he still believed the "quality, not quantity" principle was right.
"But the execution of the idea was poorly handled and we all need to take some responsibility for that, including myself," he said. This is how political leaders usually explain an embarrassment and it is strange.
It is saying to the people, "We were right, you were wrong, but we couldn't convince you." The thinking seems to be that politically it is better to question the public's intelligence and admit to political incompetence than ever to admit you were wrong. Why do all politicians think we expect them to be infallible?
The reasons for the class size debacle are fairly clear. For some time the Treasury has been questioning the worth of lower class ratios that have been negotiated with teachers' unions over a number of bargaining rounds. The Treasury can count little measurable improvement in educational outcomes from smaller classes and quite reasonably suggests the money might be better used to improve the quality not quantity of teachers.
A similar view was expressed by education professor John Hattie whose work attracted the interest of John Key a few years ago. And it was largely endorsed by the head of the Education Ministry, Lesley Longstone, who was recruited from England recently. These appeared to be the Government's main sources of advice and it was welcomed. It gave Finance Minister Bill English some of the Budget savings the economy needs from the public sector.
But it was theoretical advice. In schools, where the work is done, principals and teachers said it was wrong. They spoke as one, as they often do on issues of professional interest. But it was probably not their public comments or placards that forced the backdown in the end. It was almost certainly their influence on parents.
The school newsletter is a powerful political instrument. People generally know and respect their children's teachers and principal. When the children bring home a newsletter expressing the grave concerns of the principal and board about something a government proposes to do, parents worry. So do grandparents, neighbours, a network of acquaintances. So do local MPs.
Wise principals use this influence sparingly. Last week even some who are normally well disposed to the Government were making their concerns known to their community. That is undoubtedly what persuaded the Government to drop its whole idea. But it should not present the decision as a tactical retreat. If it, too, came around to the view that the teachers were probably right, it should say so.
There is no shame in the discovery that theoretical advice is at odds with practical priorities and to be persuaded by the practitioners. Every teacher attests to the value of smaller classes and every parent wants their child to have sufficient personal attention. Surveys last week found 80 per cent of the public understood the teachers' concern and shared it. They might be right.
If Mr Key and Education Minister Hekia Parata think they could have persuaded the public otherwise by more cunning political presentation, it insults the public to say so. They are allowed to change their minds. They will be harshly criticised only by those always wise in hindsight.
Most of us do not rate politicians who bend with every breeze but fair-minded folk respect those who can admit to an occasional mistake. It takes some backbone to back down gracefully.