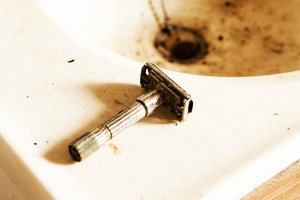 In just three days, Carlos had made himself right at home.
He'd helped himself to as much of my food as he liked. He'd lounged all about the apartment and had rearranged a few bits and pieces in the kitchen. As I discovered later, he'd even invited a few mates around without so much as asking. Yes, he was a cheeky piece of work, that Carlos.
But, for all his audacity, I don't think Carlos had expected me back so soon. It was like one of those awkward sitcom moments, where a partner comes home early from a work trip and catches their cheating spouse in the act.
You know the ones, where the third party ends up either hiding under the bed, escaping out the window or accidentally leaving their underpants. Drama and hilarity ensue.
Carlos wasn't cheating though; he was just being creepy. I'd spent five minutes or so unpacking my suitcase without even realising he was home, when I walked into the bathroom and startled him, rummaging through my toiletries cabinet.
It actually gave me a bit of a fright.
"Ohhh! Ohh, are you kidding?" I cried. "Eurrrgh ... What are you doing?!"
No apology, no explanation, just a guilty glance. I've no idea what he wanted with my spare dental floss, but I didn't bother wasting any breath asking. It was all a bit Target-carpet-cleaner for my liking. He walked out, blase and cocksure as ever.
Living alone certainly has its benefits but, in a city like New York, so too does a roommate with a bit of local knowledge. Carlos knows Spanish Harlem intimately. He was born here, he grew up here. It wouldn't surprise me if he'd never left the neighbourhood.
As a roommate, though, he was as lousy as they come. He couldn't cook, he couldn't clean, his personal hygiene was non-existent and he clearly had no concept of privacy. He never paid so much as a dollar in rent and the warm weather made him crazier than ever.
I must concede, I had been warned about his type. But even putting aside my judgmental preconceptions, really it was hard to find redeeming qualities in someone quite so dim.
Carlos looked big and tough - I swear he was twice the size of me - but boy, was he thick. Forget robust debate on the merits of European austerity, Carlos couldn't have so much as bumbled his way through a game of Pass the Pigs.
So, after a measly three days as roommates, I put my foot down. I think Carlos knew it was coming, too. Resigned to moving on, he didn't even put up a fight.
Cockroaches don't slither. They don't creep. They scuttle like crabs. And when you crush them they burst like swollen water balloons. It's a thoroughly repulsive experience, but deeply satisfying at the same time. Like squeezing a blackhead.
Of course, I understand why people have roommates. Apartments in New York cost lots of money, you know. Nice apartments cost insane money. Carlos la cucaracha cost me a paper towel, a squirt of Jif and a bug bomb.
Adios, amigo.